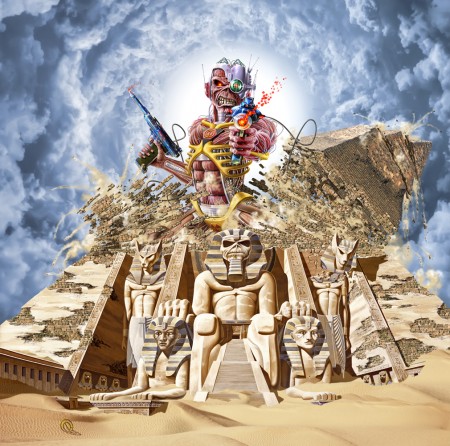 BLOODY ROOTS OF IRON MAIDEN
Special for Iron Maiden Radio Week on Sirius XM
(Monday 8/31, Two Mins To Mid ET / 8:58PM PT through Tuesday 9/8, 3AM ET / Mid PT)
Air times:
Weds 9/2, 5PM ET
Thurs 9/3 9PM ET
Sat 9/5, 12PM ET
Sun 9/6, 3PM ET
Mon 9/7, 10pm ET
An amazing event has begun. Iron Maiden's Ed Force One jet has docked with the Sirius XM satellite, and for a solid week the Channel 40 will rain unholy Maiden upon the land. That means the entire new double-album, The Book of Souls; classic material; entire live concert sets; plus straight talk between songs by members of Iron Maiden themselves.
Bruce Dickinson flipped the switch at Two Minutes To Midnight ET (8:58pm PT) on Monday, August 31st. He will also host a live three-hour special at 10PM ET on Thursday, September 3, taking calls the hundreds of bars and fans across North America hosting Iron Maiden listening parties the night before the new album's worldwide release.
And so BLOODY ROOTS OF IRON MAIDEN, a daily one-hour crash course in Iron Maiden history, capturing one of metal's three most crucial bands in its element with live material ranging from 1979 to 2012, with a few rarities thrown in from the Paul Dianno and Bruce Dickinson eras for good measure. Up the Irons—Know your Roots!
PLAYLIST:
IRON MAIDEN – "The Number of the Beast" from EN VIVO LIVE IN CHILE
IRON MAIDEN – "Iron Maiden" from FRIDAY ROCK SHOW 1979
IRON MAIDEN – "Invasion" from WOMEN IN UNIFORM
IRON MAIDEN – "Wrathchild" from LIVE AT THE RAINBOW 1981
IRON MAIDEN – "Children of the Damned" from BEAST OVER HAMMERSMITH 1982
IRON MAIDEN – "Trooper" from DORTMUND 1983
IRON MAIDEN – "Aces High" from LONG BEACH ARENA
IRON MAIDEN – "Seventh Son of a Seventh Son" from BIRMINGHAM NEC 1988
BRUCE DICKINSON – "Bring Your Daughter to the Slaughter" from A NIGHTMARE ON ELM STREET V
IRON MAIDEN – "Brighter Than a Thousand Suns" from STOCKHOLM 2006
Bloody Roots is Sound of the Beast author (and Bazillion Points publisher) Ian Christe's heavy metal history show on Sirius XM Liquid Metal channel 40. Since June 2004, each weekly show has examined another subgenre, band, movement, country, or theme. The show is available on-demand online from SiriusXM.com.