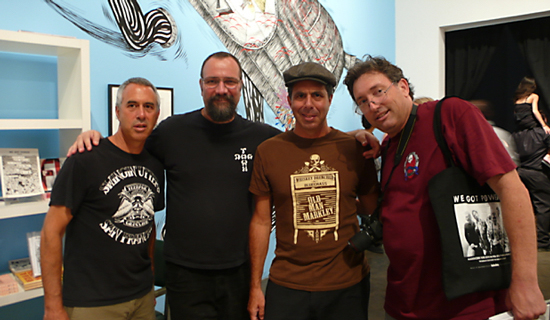 Above L-R: Shawn Stern (Youth Brigade/BYO), David Markey (We Got Power!), Mark Stern (Youth Brigade), Jordan Schwartz at Track 16, 9/8/2012
WE GOT POWER!: Hardcore Punk Scenes from 1980s Southern California authors Jordan Schwartz threw a huge party on September 8, 2012 to celebrate the release of their book. For starters, they put together a photo exhibit of about a hundred of our original NASA-level scans at the Track 16 Gallery in Santa Monica. Then they loaded glass museum cases with other items, like T-shirts, flyers, original zines, and the Black Flag skateboards that Jordan put together with Rip City Skates back in the mid 1980s. David Markey's films were showing in a black box projection room.
Somewhere between 3,000 and 5,000 passed through the massive exhibit that night. The pre-Kyuss band Dead Issue played. Saccharine Trust played their godly Pagan Icons album start to finish. The legendary Last from South Bay played. White Flag played one of their last-ever shows. The Adolescents played, and the place turned into a giant sweaty pit.
The closing of the photo show in early October 2012 was also the last big show for the Track 16 building.  The whole thing had to be bulldozed to make way for the Los Angeles MTA light rail connecting Santa Monica to downtown. The closing show was another blast, with a free show by the Meat Puppets, Middle Class, and Phranc Pholksinger.
The We Got Power! launch was amazing—did you go?
WE GOT POWER! 
Thanks to Jordan Schwartz, David Markey, Laurie Steelink at Track 16, all the bands, and everyone who helped out and hung out!