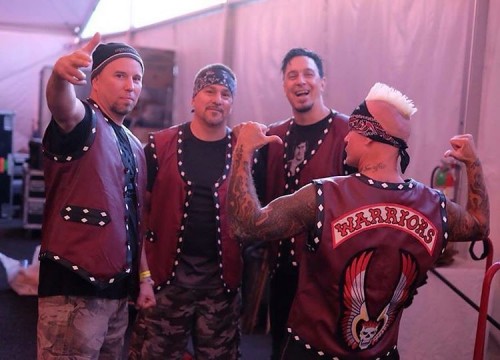 https://instagram.com/p/7no2JRhtyX/
The worlds of Heavy Metal Movies and NYHC collided in Coney Island last Sunday like baseball bats on the skulls of framed-up street gang members. Thousands of citizens converged on Coney Island to celebrate the 36th anniversary of the release of the Warriors, the iconic 1970s film that schooled a shocked public on the gang warfare and dilapidated glory of New York City streets.
This celebration included of a screening of the classic film for a crowd of mega-fans dressed as members of the Baseball Furies, the Punks, the Turnbull A.C's, Boyle Avenue Runners, Moonrunners, and other numerous gangs from the film. Afterwards, Cro-Mags frontman John Joseph led a Q&A panel that included Dorsey Wright, Michael Beck, and other actors from the movies. Afterwards, Sick of it All "came out to play," decked out in their finest Warriors vests, closing the day for a rambunctious crowd.
Noisey posted a photo collection HERE.
Check out HEAVY METAL MOVIES, whose author Mike "McBeardo" McPadden was raised in the hell of Warriors-era Brooklyn, and NYHC: New York Hardcore 1980-1990, by Tony Rettman, a book that chronicles what came next in NYC history.