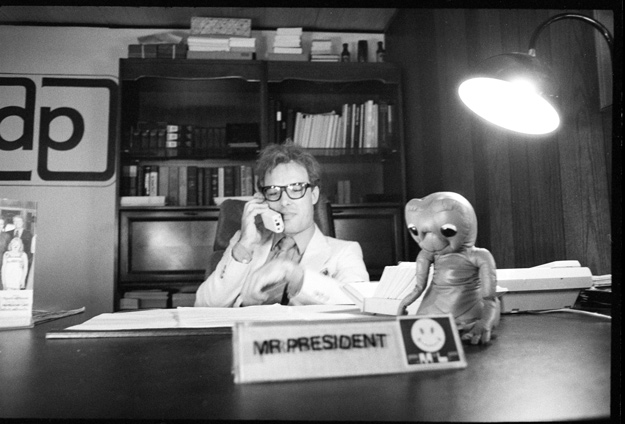 Above: Dead Kennedys vocalist Jello Biafra photo from WE GOT POWER: Hardcore Punk Scenes From 1980s Southern California in his role as the President of the U.S. in David Markey's film Lovedolls Superstar.
Thirty four years ago today, the Dead Kennedys released their In God We Trust, Inc. 12″ EP, a landmark release on the fertile early landscape of American hardcore punk.
Dead Kennedys In God We Trust, Inc Album
Inspired by scenes the band witnessed around on the east coast during their Spring 1981 tour—specifically in Washington, DC—Jello Biafra and company picked up the pace to a ludicrous speed for In God We Trust, Inc. Tracks including "Nazi Punks Fuck Off," "Moral Majority," and "We've Got a Bigger Problem Now" combined a fiercer sonic attack with Biafra's biting social and political commentary and set the standard for the bourgeoning U.S. hardcore scene. Suffice to say that this was the DKs record that inspire young punks everywhere to carve circled As on their homeroom desks.
And the studio sessions were filmed!