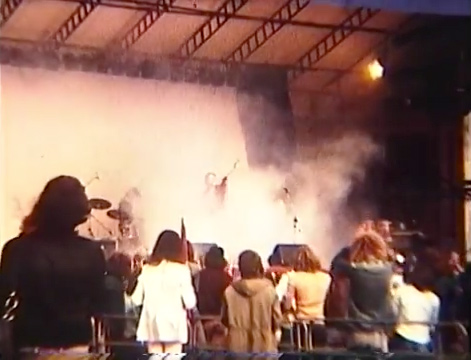 The precious flowing treasures of the past keep streaming into our faces. Now 8mm film footage of Judas Priest performing at Reading Festival on August 22, 1975, has come to YouTube. I think at this point, Al Atkins had been singer of Judas Priest longer than Rob Halford!
The performances of "Victim of Changes" and "Island of Domination" aren't earth-shatteringly great, but seeing them performed in this raw public environment sure is! This is totally unstructured heaviness, far from the well-oiled Priest machine that slaughtered America during the 1980s. Stage gear and costumes are chaotic, a wall of mismatched amps and odd wardrobe choices. KK Downing is wearing the blouse and fedora getup he sports in the far sharper Old Grey Whistle Test appearance from earlier in 1975, before Rob Halford cut his hair.
Above all, the reactions of the unsuspecting Reading 1975 audience are just totally precious. People in wooly coats are just losing their minds, hopping around and clapping their hands above their heads. The Sex Pistols formed in August 1975, so Britain hadn't even faced punk yet. Judas Priest were visitors from another dimension—maybe the 1980s.
What's your favorite crowd shot here? Comments on!