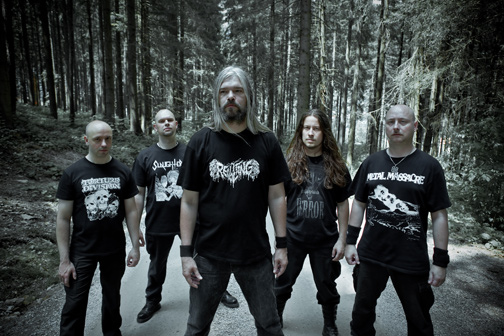 Hail of Bullets, photo by Caroline Trailer
 
Bloody Roots of Recent Corpse-Crunching Death Metal From All Over the Place on Sirius XM
Week of September 26, 2015
 
Sat 9/26, 6PM ET
Sun 9/27, 1PM ET
Mon 9/28, 9AM ET
Tues 9/29, 4PM ET
Thurs 10/1, 9PM ET
 
This week host Ian Christe ("Sound of the Beast"/Bazillion Points) sticks his well-traveled spade into the freshly-tossed earth of graves worldwide, traveling to Sweden, Spain, Australia, Germany, Holland, the United States, and back to Sweden for a ghoul's gallery of recent guts-gurgling death metal greatness by Bone Gnawer, Under the Church, Usurpress, Hail of Bullets, Morbus Chron, Tribulation, Morbid Flesh, Graveyard, Gruesome, Unleashed and more!
 
Get yourself a exclusive SWEDISH DEATH METAL hardcover and join the fun.
 
PLAYLIST:
 
BONE GNAWER – "Modern Day Cannibal" from CANNIBAL CREMATORIUM
UNDER THE CHURCH – "Back to the Grave" from UNDER THE CHURCH
BOMBS OF HADES – "Coffin" from CARNIVORES
ENTRAILS – "In Pieces" from RAGING DEATH
USURPRESS – "Fan the Flames of Madness" from ORDAINED
MORBUS CHRON – "Chains" from SWEVEN
TRIBULATION – "Melancholia" from CHILDREN OF THE NIGHT
HAIL OF BULLETS – "Swoop of the Falcon" from III THE ROMMEL CHRONICLES
BACKYARD MORTUARY – "Lure of the Occult" from LURE OF THE OCCULT
GRAVEYARD – "Blood of Vengeance" from THE SEA GRAVE
MORBID FLESH – "Soul Sacrifice" – REBORN IN DEATH
WEAK ASIDE – "The Next Offensive" from THE NEXT OFFENSIVE
UNLEASHED – "Where Is Your God Now?" from DAWN OF THE NINE
GRUESOME – "Hideous" from SAVAGE LAND
 
Bloody Roots is Sound of the Beast author (and Bazillion Points publisher) Ian Christe's heavy metal history show on Sirius XM Liquid Metal channel 40. Since June 2004, each weekly show has examined another subgenre, band, movement, country, or theme in metal, punk, and heavy rock. The show is available on-demand online from SiriusXM.com.