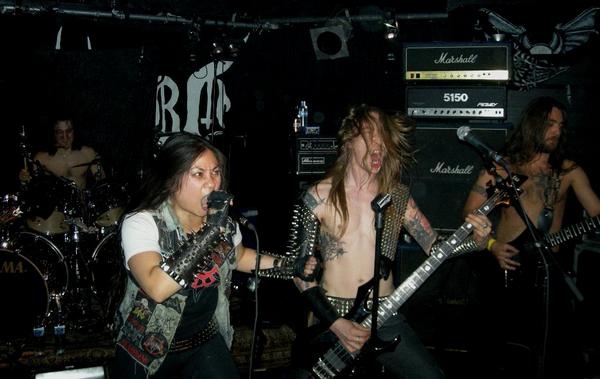 BLOODY ROOTS OF FEMALE-FRONTED BLACK METAL ON SIRIUS XM
Week of October 3, 2015
Sat 10/3, 6PM ET
Sun 10/4, 1PM ET
Mon 10/5, 9AM ET
Tues 10/6, 4PM ET
Thurs 10/8, 9PM ET
This week's metal history lesson shines a beacon in the black metal underworld to locate the formidable terror of female-fronted bands. Adorior (UK), Astarte (Greece), Demonic Christ (US), Ludicra (SF), Myrkur (Norway), Cadaveria (Italy), Amesoeurs (France), and more range from over-the-top aggressive to subdued and sublime. Know your Roots!
PLAYLIST
Darkened Nocturn Slaughtercult – "The Dead Hate The Living" from NOCTURNAL MARCH
Adorior – "Birth of Disease" from AUTHOR OF INCEST
Astarte – "Black Mighty Gods" from SIRENS
Demonic Christ – "Witches Fall" from DEMONIC BATTLE METAL
Ludicra – "Userpent" from HOLLOW PSALMS
Mortals – "View From A Tower" from CURSED TO SEE THE FUTURE
Myrkur – "Nattens Barn" from MYRKUR
Korgull The Exterminator – "Metal Fist Destroyer" from METAL FIST DESTROYER
Ancient – "Lilith's Embrace" from THE CAINIAN CHRONICLE
Bestial Holocaust – "Sacrificio" from INTO THE GOAT VULVA
Cadaveria – "Spell" from THE SHADOWS' MADAME
Amesoeurs – "Heurt" from AMESOEURS
Bloody Roots is Sound of the Beast author (and Bazillion Points publisher) Ian Christe's heavy metal history show on Sirius XM Liquid Metal channel 40. Since June 2004, each weekly show has examined another subgenre, band, movement, country, or theme in metal, punk, and heavy rock. The show is available on-demand online from SiriusXM.com.