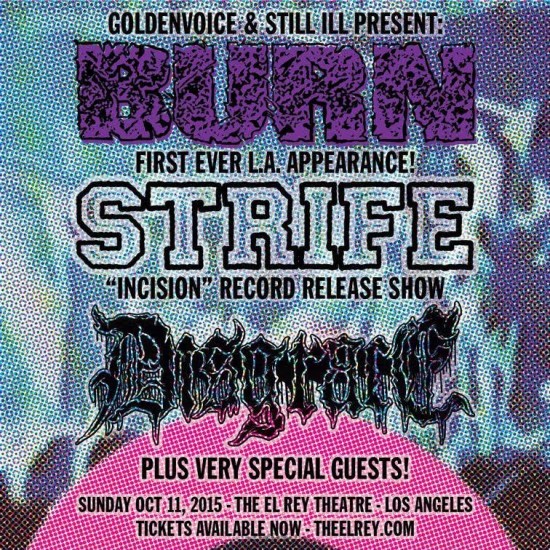 In May of this year, NYHC powerhouse Burn reunited for The Black 'N' Blue Bowl in New York City. As witnesses will testify, the thunder the band delivered that night was too strong to be contained with just one show—or even one country!
To finally please those in California and in the United Kingdom who have waited twenty-five years to see the band, some additional shows were wrangled. Sunday October 4th, Burn played London at the Dome, with support from locals Renounced and Higher Power.
This coming weekend, the band will do a weekend jaunt of the U.S. West Coast, supported by a bevy of heavy hitters including Strife, Trial, Soul Search, and Done Dying.
Friday 10/9, Constellation Room at the Observatory, Santa Ana, CA
Saturday 10/10, 924 Gilman, Berkeley, CA
Sunday 10/11, the Roxy, Los Angeles
The Hundreds is even giving tickets away!
For more info on the shows, look up the Burn Facebook page, and in the meantime check out this video by Anthony Pappalardo on the past, present, and future of Burn:
Hardcore Homecoming :: Burn Reunites :: A Documentary
NYHC: New York Hardcore 1980–1990