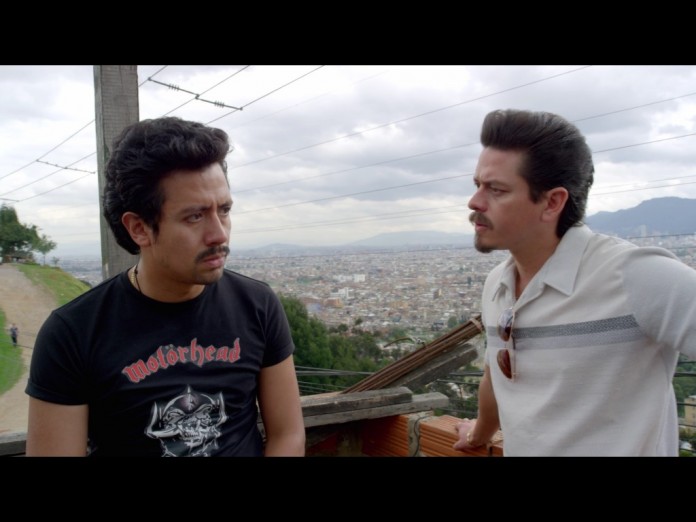 Above: From Netflix's Narcos series, a henchman of Pablo Escobar sports a Motörhead shirt in 1980s Colombia.
BLOODY ROOTS OF COLOMBIAN METAL
Week of October 10, 2015
Sat 10/10, 6PM ET
Sun 10/11, 1PM ET
Mon 10/12, 9AM ET
Tues 10/14, 4PM ET
Thurs 10/16, 9PM ET
From behind the concrete walls and jungle paths of beautiful Colombia, host Ian Christe (Sound of the Beast, Bazillion Points Books) roots out the mysteries of this proud South American metal stronghold, highlighting a range of thrash, death metal, and other styles delivered by Aggressive, Witchtrap, Ursus, Masacre, No Raza, Reencarnation, Neurosis, and more! Know your Roots!
PLAYLIST:
Aggressive – "Corrosive Entertainment" from THE PREDATOR'S ARRIVAL
Witchtrap – "Vengeance Is My Name" from VENGEANCE IS MY NAME
Loathsome Faith – "Evil Machine" from PROMO
Ursus – "Policia" from HIJOS DEL METAL
No Raza – "Llovera Sangre en el Barrio" from MISANTROPIA
Masacre – "Death Metal Forever" from TOTAL DEATH
Reencarnacion – "Funeral Del Norte" from REENCARNACION
Acutor – "Muerte en Vida" from DIOS HA MUERTO
Neurosis – "Verdún 1916" from VERDUN 1916
Inheritor – "A Fading Caress" from DUST N PASSION
Stained Glory – "The Empire" from FREEDOOM
Bloody Roots is Sound of the Beast author (and Bazillion Points publisher) Ian Christe's heavy metal history show on Sirius XM Liquid Metal channel 40. Since June 2004, each weekly show has examined another subgenre, band, movement, country, or theme in metal, punk, and heavy rock. The show is available on-demand online from SiriusXM.com.