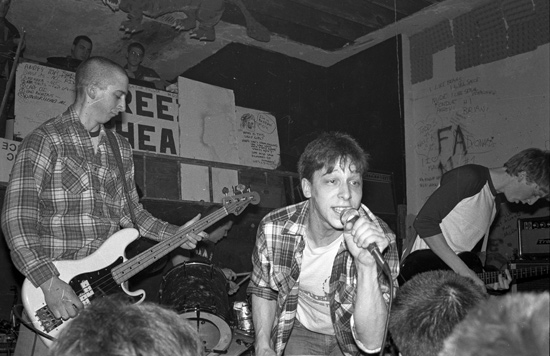 Over the past few years, Chicago-based label Alona's Dream has unearthed a barrage of unheard nuggets from the great, vast Midwestern punk rock past. The label's catalog for the past year includes mouth-watering rarities such as a seven-inch of the legendary Necros "Clubhouse Sessions" from Fall 1981.
The label has also crushed conformity by releasing the entire never-officially-released-on-vinyl output by Bored Youth, who are Detroit's best-kept secret from the early 1980s.
As you would expect, most of these vinyl releases came and went as quickly as a twelve pack of Pabst flows down the throat of John Brannon. Fortunately, the Alona's Dream folks are not sticklers when it comes to the unleashing the agree beyond vinyl. Download all the Midwestern malice you missed in hard copy format over at Alona's Dream Bandcamp page. You'll be creepy-crawling in no time!
Be sure to bust out your well-worn copy of TOUCH AND GO: The Complete Hardcore Punk Zine '79–'83 and follow along as the Midwest explodes with hardcore mayhem of the most juvenile order.