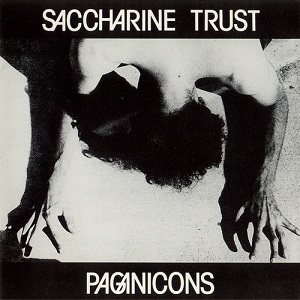 Paganicons, the wonderfully gnarled and disturbing debut twelve-inch from long-running Southern California beat punks Saccharine Trust is finally—mysteriously, even!—back in print in vinyl form after many years of lying dormant in the vaults at SST Records.
Saccharine Trust- Paganicons(Full Album)
Released in 1981, the eight-song record was a crystalline shout of poetic perfection during the hardcore punk awakening of America's youth. Too early in the game to be considered post-hardcore, but too late—and too uniquely American—to be post-punk, the band existed in its own hyper-aware reality, blasting away in front of bemused buzz-headed audiences alongside bands like Black Flag, Minutemen, and Flipper.
The band played Paganicons in its entirety at the 2012 Santa Monica release party for our massive WE GOT POWER!: Hardcore Punk Scenes from 1980's Southern California, and frontman Joaquin Brewer contributing a solid chapter of writing to the book. What's more, the cover star of our EXPERIENCING NIRVANA: Grunge in Europe, 1989 book, Kurt Cobain, ranked Paganicons as his ninth favorite album—and it shows. Listen deep and help make this record as well known as Nevermind.