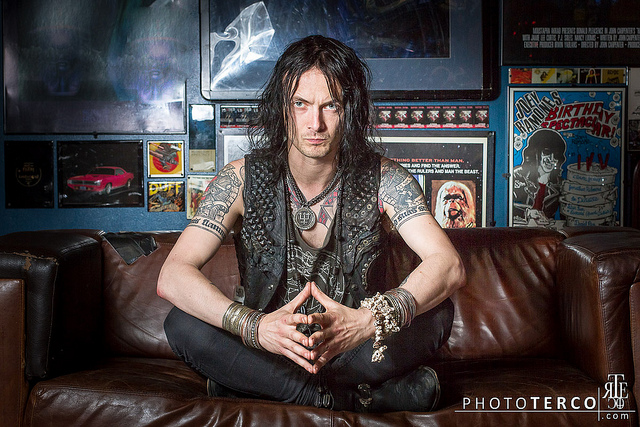 The Metal Assault site has just posted a lengthy interview with Erik "E." Danielsson of WATAIN that includes some powerful praise for the pages of METALION: The Slayer Mag Diaries and Slayer Mag Vol. X, and beyond them Slayer Mag creator Jon "Metalion Kristiansen himself.
METAL ASSAULT: I'm actually a big fan of Slayer magazine and it was pretty cool to see you on the last issue. Metalion was a huge influence for me to start to do interviews and reviews and such. When did you become a fan of Slayer Mag?

Erik Danielson: "Slayer Mag, I can say without a doubt, was one of the most important gateways to me when it came to discovering the black and death metal underground. Issue number 10 came out in like 1994, and that was just around the time I just started to dig deep into the tunnels of the underground. That issue in particular is so special because it deals with all the issues that had just happened in Norway the year before, with the murders and the church burning and everything, and while at the same time it also has got bands like Necrovore from the U.S inside. It's all-encompassing, and it gave me an all-encompassing view of what the underground was like back then, even opening it now. I know there is this book now with all the issues, but I still have my copy of issue 10, the actual one, and every time I open it, it's like going back in time.

"Over the years I came to know Metalion/Jon Kristiansen quite well, and we worked together in a few different projects. We actually even did an art show together in Oslo or Bergen, I can't remember. We got to be very good friends. He's like the epitome to me of someone who never gave up, never wimped out, never became a poser and never surrendered his true will or his true intelligence. He always stuck to his ideals. Sadly, you can't say that about too many people in this day and age. So definitely, I hold Slayer Mag and Metalion in high regard and having been put on the last cover on the last issue of Slayer Mag was probably the greatest reward for a band like Watain to get in terms of publicity or whatever you want to call it. That was really like one of the proudest moments in our history as a band."
Read the entire interview, including non-Metalion-related topics, at Metal Assault.
And READ METALION: The Slayer Mag Diaries