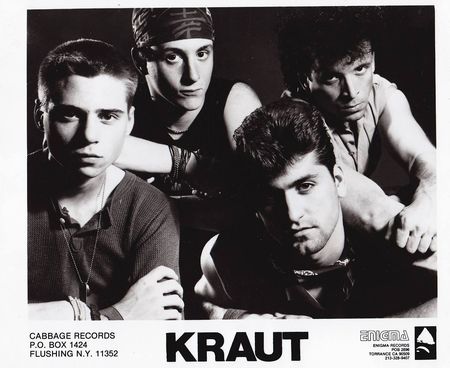 Thirty-four years ago today, Astoria, Queens', punk rock pride and joy Kraut released their own first single "Kill For Cash," thus creating one of the first hunks of vinyl to shoot out of the nascent NYHC scene.
Formed at the dawn of the 1980s by ex-Apprehended (and future Cro-Mags) guitarist Doug Holland, Kraut quickly spread its name around New York City after scoring a slot opening for the Clash during the infamous seventeen-concert run at Bond's International Casino in June of 1981.
Within months, Kraut was recording its debut single during the wee hours of the night, at the Queens recording studio where bass player Donny Cowan worked. As vocalist Davey Gunner says in the pages of NYHC: New York Hardcore 1980-1990:
"Unbeknownst to us, while we were playing in that studio, there was a scene just starting to happen. It was all about timing. You can't chase the sound—you have to be there when it happens. Before we knew it, there was this scene going on simultaneously in places like Chicago, California, D.C., and Boston."
Dig further into the gritty details of the early days of New York hardcore punk, with NYHC: New York Hardcore 1980-1990.