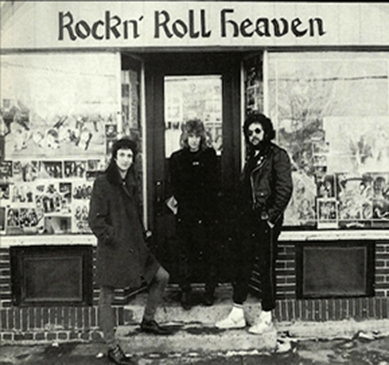 BLOODY ROOTS SALUTES MEGAFORCE RECORDS
Week of October 24, 2015
Sat 10/24, 6PM ET
Sun 10/25, 1PM ET
Mon 10/26, 9AM ET
Tues 10/27, 4PM ET
Thurs 10/29, 9PM ET
For this week's metal history lesson, host Ian Christe ("Sound of the Beast"/Bazillion Points) salutes Megaforce Records, a mom and pop independent record label launched in 1983 in Old Bridge, NJ, by Jon and Marsha Zazula to release the debut album by Metallica. In the years that followed, the Zazulas used their iron ears to uncover and their powerful headbanger family to catapult to greatness bands like Anthrax, Overkill, Testament, S.O.D., Raven, Manowar, Mercyful Fate, and many others. Hails to Megaforce and the Zazulas—know your Roots!
For an inside plunge into the early days of Metallica, Slayer, Exodus, Anthrax, and many others on the West Coast, look into MURDER IN THE FRONT ROW: Shots From the Bay Area Thrash Metal Epicenter..
PLAYLIST:
METALLICA – "Phantom Lord" from KILL 'EM ALL
RAVEN – "Mind Over Metal" from ALL FOR ONE
MERCYFUL FATE – "At the Sound of the Demon Bell" from MELISSA
EXCITER – "Pounding Metal" from VIOLENCE & FORCE
MANOWAR – "Warlord" from INTO GLORY RIDE
ANTHRAX – "Metal Thrashing Mad" from FISTFUL OF METAL
S.O.D. – "United Forces" from SPEAK ENGLISH OR DIE
OVERKILL – "Feel the Fire" from FEEL THE FIRE
TESTAMENT – "New Order" from THE NEW ORDER
BLESSED DEATH – "Pig Slaughter" from KILL OR BE KILLED
VIO-LENCE – "Oppressing the Masses" from OPPRESSING THE MASSES
LONE RAGER – "Metal Rap" from METAL RAP
SHATTERED SUN – "Hope Within Hatred" from HOPE WITHIN HATRED
ANTHRAX – "Evil Twin" from EVIL TWIN

Bloody Roots is Sound of the Beast author (and Bazillion Points publisher) Ian Christe's heavy metal history show on Sirius XM Liquid Metal channel 40. Since June 2004, each weekly show has examined another subgenre, band, movement, country, or theme in metal, punk, and heavy rock. The show is available on-demand online from SiriusXM.com.