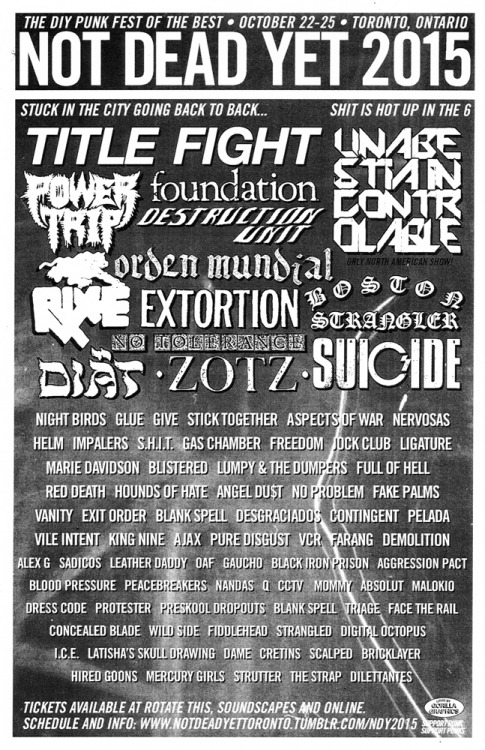 NYHC: New York Hardcore 1980–1990 author Tony Rettman will be taking part in a panel discussion up in Toronto, Canada, at Not Dead Yet—a three-day festival in its fourth year of showcasing the rawest and best in nowadays punk, hardcore, noise, and beyond. Rettman's brain-mosh will commence on Saturday, Oct. 24, 12PM Noon at Faith/Void Records on 894 College Street in Toronto.
The panel will discuss the documentation of punk in 2015, and will also feature Fucked Up vocalist / Turned Out a Punk podcast host Damian Abraham. Rettman promises to have special, rubber-stamped editions of both his books on hand, only be available at the event. Come on up and have a poutine with Rettman!
Beyond the panel, there will be a record swap, art showings, and hours upon hours of coarse music across the city of Toronto, including performances by Texas crossover act Power Trip, noise veteran Rodger Stella, Australian powerviolence legends Extortion, and the dreamy, ethereal sounds of Wilkes-Barre, Pennsylvania's, Title Fight.
Check out the Not Dead Yet site.
NYHC: New York Hardcore 1980–1990