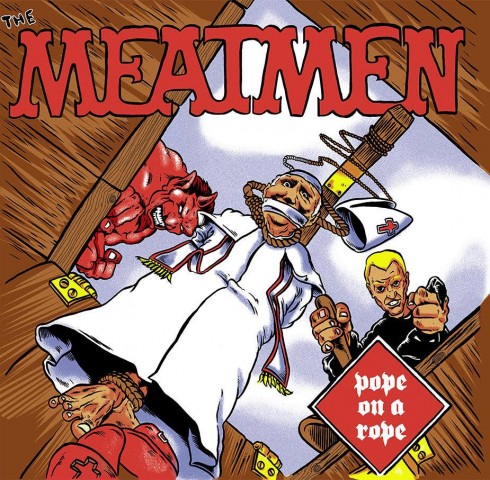 Weenbags of the world rejoice, as TOUCH AND GO: The Complete Hardcore Punk Zine '79-'83 author Tesco Vee and the Meatmen's classic mid-'90s album Pope on a Rope is finally getting a proper vinyl release (none of that CD bologna) and will be available worldwide on November 27th for Black Friday, through Self Destructo Records.
In the face of a post-Nirvana world, Tesco revamped his band and delivered one of his most scathing and offensive albums. Sometimes verging on speed metal, the record is filled with heart-knocking ditties including "Beefsteak Boogie," "I Want Drugs," "Some Like It Cold," and the uplifting title cut. Originally released on CD on Tesco's own Meat King Records, the album has been long out of print, and was the last chunk of original Meatmen material until the 2014 comeback, Savage Sagas. Everything about this album is a big, provocative middle finger to moral crusaders around the planet.
The Meatmen-Pope On A Rope
Self Destructo Records will be pressing Pope on a Rope in a very limited quantity of five hundred transparent red records. The artwork has been redrawn and updated with Pope Francis taking his place on the end of a string, courtesy of Detroit artist Craig Horky. Take a peep at the pre-orders for the disc, and be sure to run down to your favorite record pavilion on November 27, (aka Black Friday) to pick up this Meat classic.
TOUCH AND GO: The Complete Hardcore Punk Zine '79-'83