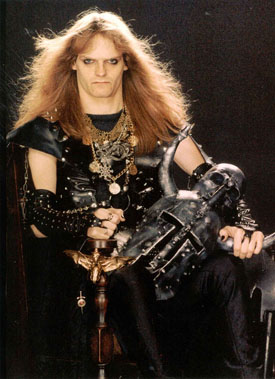 Bloody Roots of Celtic Frost Worship on Sirius XM
Sat 11/7, 6PM ET
Sun 11/8, 1PM ET
Mon 11/9, 9AM ET
Tues 11/10, 4PM ET
Thurs 11/12, 9PM ET
This week's heavy metal history lesson celebrates the crucial influence of Swiss visionaries Celtic Frost, whose massively heavy footprints are still following as a path towards totally crushing and twisted metal power. Celtic Frost, Obituary, Darkthrone, Usurper, Sheer Terror, Dream Death, Triptykon, and others feature. Know your Roots…UNGH!
PLAYLIST:
CELTIC FROST – "The Usurper" from TRAGIC SERENADES
OBITUARY – "Slowly We Rot" from SLOWLY WE ROT
DREAM DEATH – "The Elder Race" from JOURNEY INTO MYSTERY
USURPER – "Deathwish" from NECRONEMESIS
SEPULTURA – "Procreation of the Wicked" from ROOTS
DARKTHRONE – "Triumphant Gleam" from PANZERFAUST
CIANIDE – "The One True Death" from GODS OF DEATH
INNER SANCTUM – "Seas Of Dread" from FROZEN SOULS
SHEER TERROR – "Just Can't Hate Enough" from JUST CAN'T HATE ENOUGH
CELTIC FROST – "Morbid Tales" from MORBID TALES
TRIPTYKON – "Tree Of Suffocating Souls" from MELANA CHASMATA

Bloody Roots is Sound of the Beast author (and Bazillion Points publisher) Ian Christe's heavy metal history show on Sirius XM Liquid Metal channel 40. Since June 2004, each weekly show has examined another subgenre, band, movement, country, or theme in metal, punk, and heavy rock. The show is available on-demand online from SiriusXM.com.