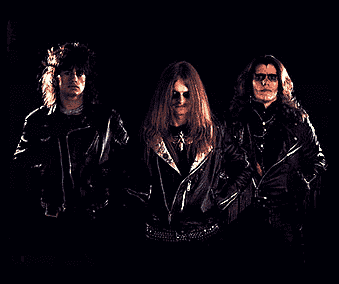 BLOODY ROOTS OF CELTIC FROST WORSHIP II: THE COVERS
Week of November 14, 2015
Sat 11/14, 6PM ET
Sun 11/15, 1PM ET
Mon 11/16, 9AM ET
Tues 11/17, 4PM ET
Thurs 11/19, 9PM ET
Continuing our celebration of metal originators Celtic Frost, we follow-up last week's show with a full spectrum of Celtic Frost cover songs by a multitude of Frost-influenced bands. Tracks from classic albums including Morbid Tales and To Mega Therion are reinvented by the ultra-heavy likes of High on Fire, Brutal Truth, Mortician, Mayhem, Opeth, Triptykon, Evoken, Cradle of Filth, and more. Ungah—know your Roooooots!
For the complete story of Celtic Frost's origins and development, be sure to read: ONLY DEATH IS REAL: An Illustrated History of Hellhammer and Early Celtic Frost 1981–1985, by Tom Gabriel Fischer, featuring a foreword by Nocturno Culto of Darkthrone.
PLAYLIST:
HIGH ON FIRE – "The Usurper" – from THE ART OF SELF DEFENSE
BRUTAL TRUTH – "Dethroned Emperor" from NEED TO CONTROL
CRADLE OF FILTH – "Into the Crypt of Rays" from GODSPEED ON THE DEVIL'S THUNDER
MORTICIAN – "Procreation of the Wicked" from HOUSE BY THE CEMETARY
DIMMU BORGIR – "Nocturnal Fear" from DEVILS PATH
MAYHEM – "Visual Aggression" from IN MEMORY OF CELTIC FROST
MELECHESH – "Babylon Fell" from SPHINX
OPETH – "Circle of the Tyrants" from MY ARMS YOUR HEARSE
TEMPLE OF VOID – "Os Abysmi Vel Daath" from MORBID TALES: A TRIBUTE TO CELTIC FROST
COFFIN'S SLAVE – "Dance Sleazy" from MORBID TALES: A TRIBUTE TO CELTIC FROST
TRIPTYKON – "Circle Of The Tyrants (live)" from SHATTER EP
EVOKEN – "Dawn of Megiddo" from MORBID TALES: A TRIBUTE TO CELTIC FROST

Bloody Roots is Sound of the Beast author (and Bazillion Points publisher) Ian Christe's heavy metal history show on Sirius XM Liquid Metal channel 40. Since June 2004, each weekly show has examined another subgenre, band, movement, country, or theme in metal, punk, and heavy rock. The show is available on-demand online from SiriusXM.com.