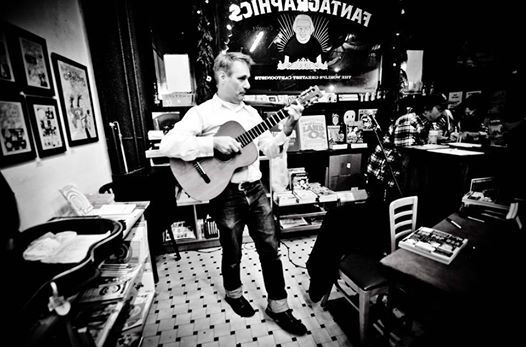 Prior to his Monday night Madrid concert at the Cineteca (Slaughterhouse, 9:30 p.m.), Subterranean Pop's own Late-Night Peanut Butter Sandwich chief Calvin Johnson will appear at Cuervo Store comes to speak about Sub Pop USA: The Subterranean Pop Music Anthology, 1980-1988, by Bruce Pavitt. The book chronicles the rise of independent music in America during the 1980s, leading to the birth of grunge and DIY ethics, a brave attempt at saving the music industry forever.
Calvin Johnson is an American guitarist, singer, songwriter, music producer and disc jockey born in Olympia, Washington. He is known for the bands Beat Happening, The Go Betweens, Dub Narcotic Sound System, and Halo Benders. Calvin is also the founder and owner of the influential independent label K Records.
Cuervo will have copies of Sub Pop USA: The Subterranean Pop Music Anthology 1980-1988 on hand. Calvin will discuss his contributions to the book, and will be happy to answer any questions. Gracias!
FREE
5PM Local Time
Cuervo Store
Calle Velarde, 13
28004 Madrid, Spain
Sub Pop USA: The Subterranean Pop Music Anthology, 1980-1988