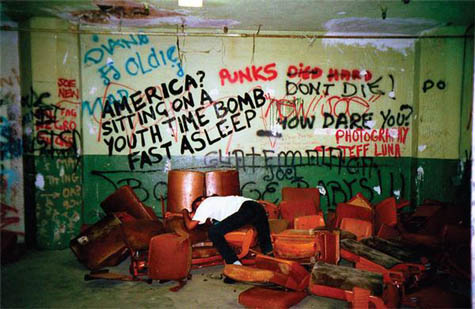 Dez Cadena during an early-1990s expedition into the Masque, legendary L.A. punk venue that remained untouched and boarded-up since the days of Darby Crash. photo by David Markey from WE GOT POWER!
In support of Dez Cadena (Black Flag/Redd Kross/DC3/Misfits/WE GOT POWER!) and his recovery from throat cancer and radiation treatment, a mob of Southern California punk legends will be assembling this weekend over two nights at Cafe Nela in Los Angeles.
The bill will include sets from such luminaries as Rikk Agnew from the Adolescents; Keith Morris of Black Flag and the Circle Jerks; Grant Hart from Hüsker Dü; Mike Watt and the Missingmen; Saccharine Trust; Paul Roessler; and reunited first-wave L.A punkers the Alleycats. The pre-Redd Kross (even pre-Red Cross!) band the Tourists will also appearing, playing their first show since 1979.
CAFE NELA, 1906 Cypress Ave, Los Angeles
$20 cover, doors at 7PM
Advance tickets at: http://dezo1.eventbrite.com/
Saturday, November 21:
The Alleycats 8pm
Carnage Asada 9pm
Saccharine Trust 10pm
Mike Watt and the Missingmen 11pm
Grant Hart 12mid
Sunday, November 22:
Landfill 6pm
Backbiter 7pm
Keith Morris 7:50pm
The Tourists 8pm
Rikk Agnew Band 9pm
Paul Roessler 10pm
PRV13 11pm
Check out the Facebook event page for the benefit, and show your support:
https://www.facebook.com/events/1642322076023895/