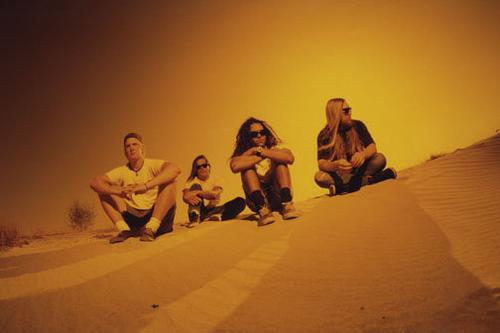 BLOODY ROOTS OF DESERT ROCK
Week of November 28, 2015
Sat 11/28, 6PM ET
Sun 11/29, 1PM ET
Mon 11/30, 9AM ET
Tues 12/1, 4PM ET
Thurs 12/3, 9PM ET
This week's history lesson looks at the substantial heavy music scene spawned in the shifting Southern California sands that gave birth to modern rock bands like Eagles of Death Metal and Queens of the Stone Age. Cosmic flow and heavy flights courtesy of Kyuss, Fu Manchu, Mondo Generator, Unida, Nebula, Vista Chino, Throw Rag, Fatso Jetson, and many more. Know your Roots!
For a pre-history of the Palm Desert / Palm Springs punk and desert rock scene, check out Sean Wheeler's contributions to WE GOT POWER!: Hardcore Punk Scenes from 1980s Southern California
PLAYLIST:
KYUSS – "Gardenia" from WELCOME TO SKY VALLEY
FU MANCHU – Hell On Wheels" from KING OF THE ROAD
MONDO GENERATOR – "13th Floor" from COCAINE RODEO
THE DESERT SESSIONS – "Screamin' Eagle" from VOLUMES 1 AND 2
CHE – "The Knife" from SOUNDS OF LIBERATION
FATSO JETSON – "Magma" from TOASTED
NEBULA – "Sun Creature" from SUN CREATURE EP
UNIDA – "Red" from DOZER SPLIT
SIXTY WATT SHAMAN – "All Things Come to Pass" from REASON TO LIVE
THROW RAG – "Tonight the Bottle Ket Me Down" from 13 FT. AND RISING
VISTA CHINO – "Dargona Dragona" from PEACE
KYUSS – "Whitewater" from WELCOME TO SKY VALLEY
Bloody Roots is Sound of the Beast author and Bazillion Points publisher Ian Christe's heavy metal history show on Sirius XM Liquid Metal channel 40. Launched in June 2004, each weekly show has examined another subgenre, band, movement, country, or theme in metal, punk, and heavy rock. Past episodes are available on-demand online from SiriusXM.com.