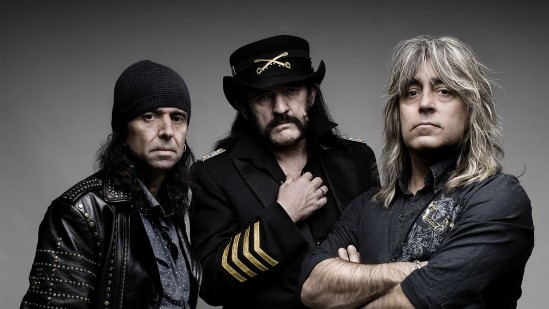 BLOODY ROOTS OF MOTÖRHEAD
Week of December 5, 2015
Sat 12/5, 6PM ET
Sun 12/6, 1PM ET
Mon 12/7, 9AM ET
Tues 12/8, 4PM ET
Thurs 12/10, 9PM ET
In support of Lemmy, Phil Campbell, Mickey Dee, and Motörhead, this week's heavy metal history lesson charges into the depths of metal's dirtiest band and its four decades of pillaging and disturbing all decency. Tracks by Motörhead and Hawkwind, plus blistering tributes by Metallica, Destruction, Sodom, Entombed, Wino, Sepultura, and Mudhoney. Know your Roots!
PLAYLIST:
MOTÖRHEAD – "Burner" from BASTARDS
HAWKWIND – "Motorhead" from KINGS OF SPEED
METALLICA – "Damage Case" from GARAGE INC
GIRLSCHOOL – "Bomber" from HEADGIRL
DESTRUCTION – "The Hammer" from THE BIG TEUTONIC 4
SODOM – "Iron Fist" from PERSECUTION MANIA
MOTÖRHEAD – "Snaggletooth" from NO REMORSE
ILLDISPOSED – "Killed by Death" from RETRO
SEPULTURA – "Orgasmatron" from UNDER SIEGE
ENTOMBED – "One Track Mind" from SONS OF SATAN PRAISE THE LORD
MUDHONEY – "Over the Top" from MARCH TO FUZZ
MOTÖRHEAD – "Civil War" from OVERNIGHT SENSATION
MOTÖRHEAD – "Red Raw" from HAMMERED
WINO – "Iron Horse" from ADRIFT
BATHORY – "Ace of Spades" from A BLACK MARK TRIBUTE
MOTÖRHEAD – "Overkill" from LIVE
Bloody Roots is Sound of the Beast author (and Bazillion Points publisher) Ian Christe's heavy metal history show on Sirius XM Liquid Metal channel 40. Since June 2004, each weekly show has examined another subgenre, band, movement, country, or theme in metal, punk, and heavy rock. The show is available on-demand online from SiriusXM.com.