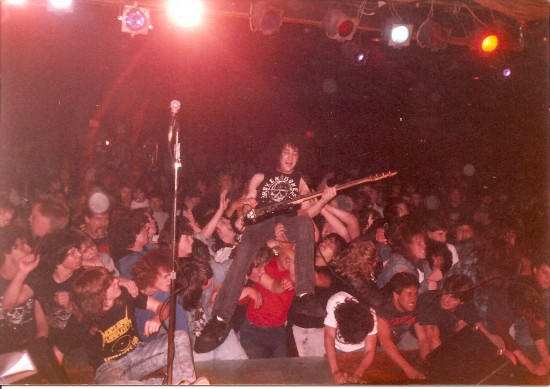 Bloody Roots of Metal Bass Titan Dan Lilker
Week of Dec. 12, 2015
Sat 12/12, 6PM ET
Sun 12/13, 1PM ET
Mon 12/14, 9AM ET
Tues 12/15, 4PM ET
Thurs 12/17, 9PM ET
As his game-changing bands Nuclear Assault and Brutal Truth come to a close, Bloody Roots honors lifelong metal bass hero Dan Lilker, and his epic nonstop roles in Anthrax, S.O.D., Exit-13, Crucifist, the Ravenous, plus current projects Venomous Concept, Blurring, Nokturnal Hellstorm. Lilker has played in key role in movement after movement, spearheading thrash metal, crossover, grindcore, black metal and more. Know your Roots!
For the complete dossier on Lilker's epic thirty-year career in metal, check out PERPETUAL CONVERSION: Thirty Years and Counting in the Life of Metal Veteran Dan Lilker
PLAYLIST
BLURRING – "Stare at Buildings" from JAN 2013 DEMO
ANTHRAX – "Panic" from FISTFUL OF METAL
S.O.D. – "March of the S.O.D./Sgt. D. & the S.O.D." from SPEAK ENGLISH OR DIE
NUCLEAR ASSAULT – "Radiation Sickness" from GAME OVER
NUCLEAR ASSAULT – "Final Flight" from BRAIN DEAD
EXTRA HOT SAUCE – "Extreme Hatred" from TACO OF DEATH
BRUTAL TRUTH – "Godplayer" from NEED TO CONTROL
EXIT-13 – "Reevaluate Life" from ETHOS MUSICK
THE RAVENOUS – "Clotted Cryptic Writings" from THREE ON A MEATHOOK
CRUCIFIST – "Putrid Mother Lode" from DEMON-HAUNTED WORLD
OVERLORD EXTERMINATOR – "Sunrise Is My Destroyer" from EARTH-DOG
HEMLOCK – "Necrofuck" from FUNERAL MASK
NOKTURNAL HELLSTORM – "Oppression" from 2014 DEMO
VENOMOUS CONCEPT – "Three" from 324 SPLIT
NUCLEAR ASSAULT – "Pounder" from POUNDER
Bloody Roots is Sound of the Beast author (and Bazillion Points publisher) Ian Christe's heavy metal history show on Sirius XM Liquid Metal channel 40. Since June 2004, each weekly show has examined another subgenre, band, movement, country, or theme in metal, punk, and heavy rock. The show is available on-demand online from SiriusXM.com.