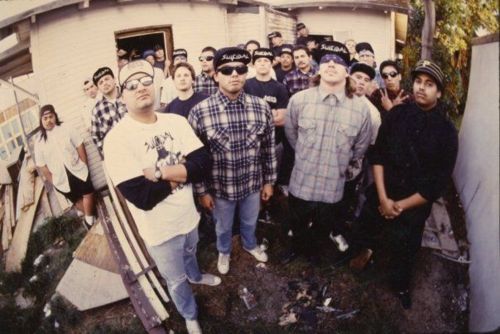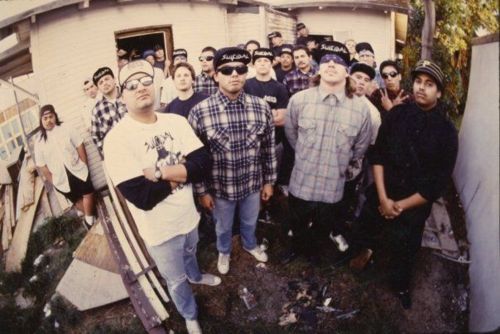 For a total oral and visual early history of CA HC from the origins onward, check out WE GOT POWER!: Hardcore Punk Scenes from 1980s Southern California, by David Markey and Jordan Schwartz.
Bloody Roots of California Hardcore on Sirius XM
Week of February 6, 2016
Sat 6/6, 6PM ET
Sun 6/7, 1PM ET
Mon 6/8, 9AM ET
Tues 6/9, 4PM ET
Thurs 6/11, 9PM ET
The Golden State has been a hotbed of hardcore punk since the days of mohawks and safety pins. Join Ian Christe ("Sound of the Beast"/Bazillion Points) for a feast of classic California hardcore, tight straightedge, metallic crossover, brief bursts of powerviolence, and current-day crushing crust. Tracks by Black Flag, Suicidal Tendencies, Uniform Choice, Battalion of Saints Crucifix, Infest, Spazz, ACxDC, Xibalba, Trash Talk, Nails, and more. Know your Roots!
PLAYLIST:
CIRCLE JERKS – "Back Against the Wall" from GROUP SEX
ANGRY SAMOANS – "Gas Chamber" from BACK FROM SAMOA
GERMS – "Media Blitz" from GI
FEAR – "Let's Have a War" from THE RECORD
DEAD KENNEDYS – "Holiday in Cambodia" from FRESH FRUIT FOR ROTTING VEGETABLES
BLACK FLAG – "Police Story" from DAMAGED
SUICIDAL TENDENCIES – "Subliminal" from SUICIDAL TENDENCIES
DR. KNOW – "God Told Me To" from PLUG IN JESUS
BATTALION OF SAINTS – "My Minds Diseased" from SECOND COMING
CRUCIFIX – "Annihilation" from DEHUMANIZATION
ATTITUDE ADJUSTMENT – "Grey World" from AMERICAN PARANOIA
FINAL CONFLICT – "Guns Forever" from DEATH IS CERTAIN
BLAST – "It's in My Blood" from IT'S IN MY BLOOD
NO FOR AN ANSWER – "Man Against Man" from IT MAKES ME SICK
UNIFORM CHOICE – "Screaming For Change" from SCREAMING FOR CHANGE
INFEST – "Cold Inside" from NO MAN'S SLAVE
CROSSED OUT – "Suffocate" from CROSSED OUT
SPAZZ – "Don't Quit Your Day Job" from LA REVANCHA
TRASH TALK – "The Great Escape" from NO PEACE
XIBALBA – "Invierno" from TIERRA Y LIBERDAD
ACxDC – "We Kill Christians" from HE HAD IT COMING
NAILS – "Depths" from UNSILENT DEATH
Bloody Roots is Sound of the Beast author (and Bazillion Points publisher) Ian Christe's heavy metal history show on Sirius XM Liquid Metal channel 40. Since June 2004, each weekly show has examined another subgenre, band, movement, country, or theme in metal, punk, and heavy rock. The show is available on-demand online from SiriusXM.com.