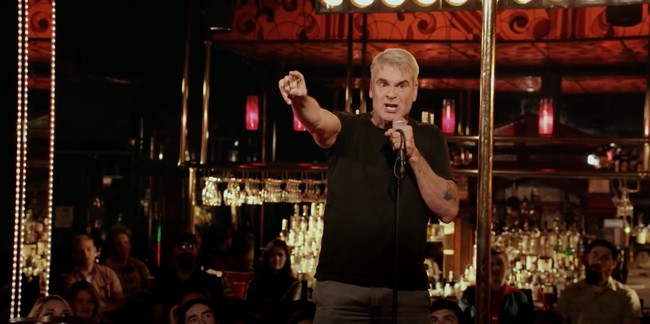 In the second season debut of Comedy Central's This Is Not Happening, punk author/raconteur Henry Rollins performs "Everything Was Heavy," his contribution to the mammoth anthology WE GOT POWER!: Hardcore Punk Scenes From 1980s Southern California. The tale concerns Rollins' arrival in Los Angeles in the early 1980s, at which point a Black Flag bandmate encourages him to take an LSD trip: "You're an asshole. It might help."
As Rollins writes, that opportunity soon arrived in the form of a woman named Kim Pilkington. "She was extremely intelligent, and I believe she had the lowest fear quotient of anyone I have ever met. Life didn't seem to be hitting hard enough or going deep enough for her." Rollins soon found himself in Kim's car, having taken four hits of acid, with her driving at high speeds along winding canyon roads, veering into oncoming traffic adn edging perilously close to cliff edges.
This hilarious but ultimately harrowing tale appears in WE GOT POWER! alongside 400 photos from the early days of L.A. hardcore punk, plus essays by Keith Morris of the Circle Jerks, Louiche Mayorga of Suicidal Tendencies, Steve Human of The Vandals, Tony Reflex of The Adolescents, and Henry Rollins, Chuck Dukowski, and Dez Cadena of Black Flag, and more. It also includes the complete color reprints of the We Got Power fanzine from 1981­–1983 and beyond. For complete information, visit:
http://www.wegotpowerbook.com/
WE GOT POWER! is the Southern California component of Bazillion Points' lauded library of authoritative books about revered music scenes, including SUB POP USA: The Subterranean Pop Anthology 1980-1988, by Sub Pop founder Bruce Pavitt; TOUCH AND GO: The Complete Hardcore Punk Zine 1977-1983, by Tesco Vee and Dave Stimson; NYHC: New York Hardcore 1980–1990, by Tony Rettman; and MURDER IN THE FRONT ROW: Shots From the Bay Area Thrash Metal Epicenter, by Harald Oimoen and Brian Lew.
http://www.bazillionpoints.com