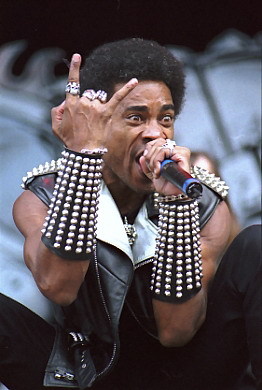 above: Katon W. DePena of Hirax
BLOODY ROOTS CELEBRATES BLACK HISTORY MONTH
Week of February 20, 2016
Sat 2/20, 6PM ET
Sun 2/21, 1PM ET
Mon 2/22, 9AM ET
Tues 2/23, 4PM ET
Thurs 2/25, 9PM ET
OnDemand at SiriusXM.com
Celebrate decades of diversity in the devil's music as black history and metal history combine through Thin Lizzy, Hirax, Black Death, Suicidal Tendencies, early Metallica, Suffocation, Animals as Leaders, Ice T's Body Count, Bad Brains, Sepultura, Tony Iommi and Skin, God Forbid, Evile, Straight Line Stitch, and more!
And for a unique point-of-view, check out WHAT ARE YOU DOING HERE?: A Black Woman's Life and Liberation in Heavy Metal, by Laina Dawes.
PLAYLIST:
BODY COUNT – "There Goes The Neighborhood" from BODY COUNT
THIN LIZZY – "Cold Sweat" from THUNDER & LIGHTNING
HIRAX – "Demons Evil Forces" from RAGING VIOLENCE
BLACK DEATH – "Night of the Living Death" from BLACK DEATH
SUICIDAL TENDENCIES – "Join The Army" from JOIN THE ARMY
BAD BRAINS – "I Against I" from I AGAINST I
ZNOWHITE – "Do or Die" from ALL HAIL TO THEE
METALLICA – "Hit the Lights (Lloyd Grant version)" from METAL MASSACRE FIRST PRESSING
TONY IOMMI FEATURING SKIN – "Meat" from IOMMI
SEPULTURA – "Dark Wood of Error" from DANTE XXI
SUFFOCATION – "Abomination Reborn" from SUFFOCATION
GOD FORBID – "War Of Attrition" from EARTHSBLOOD
EVILE – "Schizophrenia" from ENTER THE GRAVE
24-7 SPYZ – "Yeah x 3" – TRUE CRIME STREETS OF NEW YORK
ANIMALS AS LEADERS – "Physical Education" from THE JOY OF MOTION
STRAIGHT LINE STITCH – "Human Bondage" from TRANSPARENCY
Bloody Roots is Sound of the Beast author (and Bazillion Points publisher) Ian Christe's heavy metal history show on Sirius XM Liquid Metal channel 40. Since June 2004, each weekly show has examined another subgenre, band, movement, country, or theme in metal, punk, and heavy rock. The show is available on-demand online from SiriusXM.com.