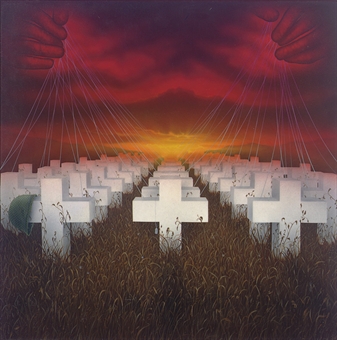 Bloody Roots of Metallica's Master of Puppets at 30 on SiriusXM
Week of February 27, 2016
Sat 2/27, 6PM ET
Sun 2/28, 1PM ET
Mon 2/29, 9AM ET
Tues 3/1, 4PM ET
Thurs 3/3, 9PM ET
OnDemand at SiriusXM.com
March 3, 2016, marks the 30th anniversary of the release of Metallica's triumphant breakthrough MASTER OF PUPPETS. Already solidified as a metal force via their first two independent albums, Metallica crashed through the commercial ceiling on its major label debut, upending the image-heavy MTV video bands and carving out a place in the mainstream for the thrash metal resistance. Join us for a track-by-track breakdown of Master at 30, including Metallica studio and live tracks, plus tributes by Mastodon, Tankard, Primus, Parthian Shot, Ensiferum, and others. Know your Roots!
For the view from the frontlines of Metallica's first few years, check out MURDER IN THE FRONT ROW: Shots From the Bay Area Thrash Metal Epicenter, by Harald Oimoen and Brian Lew.
PLAYLIST:
ENSIFERUM – "Battery" from IRON
METALLICA – "Master Of Puppets" from LIVE SEATTLE 1989
PRIMUS "The Thing That Should Not Be" from RHINOPLASTY
SCOTT IAN – MICKEY DEE – JOHN MARSHALL – "Welcome Home (Sanitarium)" from METALLIC ATTACK
PARTHIAN SHOT – Disposable Heroes" from AND COVERS FROM ALL
METALLICA – "Leper Messiah" from MASTER OF PUPPETS
SYPHILIC – "Leper Messiah" from BEHIND BARS
MASTODON – "Orion" from REMASTERED
TANKARD -"Damage Inc" from KINGS OF BEER
METALLICA – "Battery" from S&M
Bloody Roots is Sound of the Beast author (and Bazillion Points publisher) Ian Christe's heavy metal history show on Sirius XM Liquid Metal channel 40. Since June 2004, each weekly show has examined another subgenre, band, movement, country, or theme in metal, punk, and heavy rock. The show is available on-demand online from SiriusXM.com.