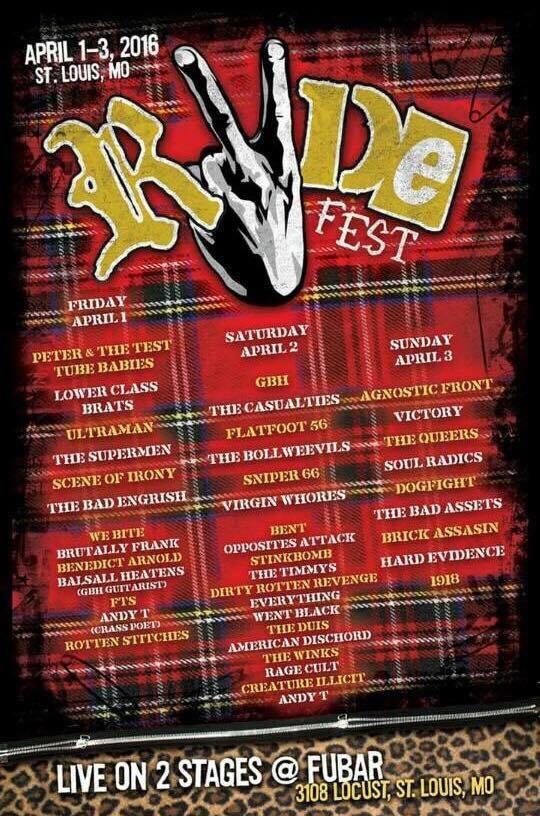 For our dear readers living in the hardcore punk hotbed of the U.S. Midwest, here is a show for the books—specifically our recent releases NYHC: New York Hardcore 1980-1990 and City Baby: Surviving in Leather, Bristles, Studs, Punk Rock, and G.B.H.
Rude Fest in St. Louis will ignite the waters of the Mississippi River on April 1-3, featuring a snot-nosed lineup that reunites the long-ago players from the fierce G.B.H / Agnostic Front baseball rivalry.
Our author Ross Lomas will headline night 2 with G.B.H, while comrades and NYHC godfathers Agnostic Front headline the final night. (Night one features Peter and the Test Tube Babies, themselves costars in the G.B.H. book)
Get your suspenders, get your boots, soap that hair, and get your tickets here. In true punk form the fest organizers are looking for some folks to lend a hand; if you have a vehicle and live around St. Louis, get to this page and let them know.
https://www.facebook.com/RudeFestivalsaintlouis/
Who came out the champs when G.B.H and Agnostic Front played baseball? READ ON!
City Baby: Surviving in Leather, Bristles, Studs, Punk Rock, and G.B.H.
NYHC: New York Hardcore 1980-1990