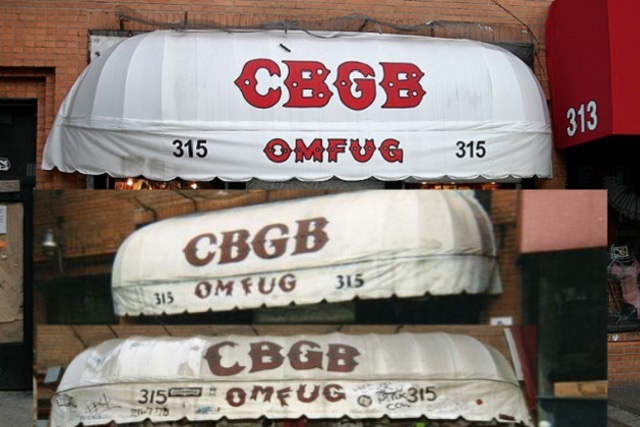 While remnants and replicas of hardcore punk haunt CBGBs continue to spread freely across the globe, Jen Carlson at Gothamist has lent her keen investigative eye to a crucial, burning question: Where are the original CBGBs awnings?
The answers are blurry and a little bizarre. There might have been three, possibly four, okay maybe five awnings total. Many believe JFA stole one, and though the band has never fessed up, judging by their attitudes in the We Got Power! book this seems like a distinct possibility. One might be a replica, fabricated by Spike Lee during the filming of Summer of Sam, and then actually put to use by CBs owner Hilly Kristal. An ex-employee saved one awning from the dumpster. Some say Freddie Cricien of Madball has a piece of one awning in his apartment.
Well, read on at Gothamist—the url is misleading, as this mystery is far from solved. Stay on the case, Jen Carlson!
http://gothamist.com/2016/02/22/cbgb_awning_mystery_solved.php
1,001 reasons we are still talking about CBGBs, with foreword by Freddy Madball:
<a href="http://www.nyhcbook.com/" target="_blank"><em>NYHC: New York Hardcore 1980–1990</em>, by Tony Rettman</a>