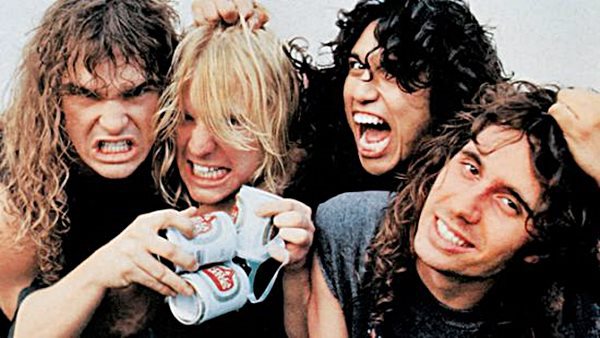 Bloody Roots Thirty-Year Thrashback to 1986 on Sirius XM
Week of February 27, 2016
Sat 3/19, 6PM ET
Sun 3/20, 1PM ET
Mon 3/21, 9AM ET
Tues 3/22, 4PM ET
Thurs 3/24, 9PM ET
OnDemand at SiriusXM.com
This week's heavy metal history lesson flashes back thirty years to 1986, as thrash peak reached a creative peak and smashed through the commercial boundaries to take over the larger metal world. Join us for a recap of the maturing Metallica, Slayer, and Megadeth; the newcomers Nuclear Assault, Dark Angel, and Whiplash; and the very early seeds of rising death and black metal in Kreator, Sodom, Sepultura, and Sacrifice. Know your Roots!
For the view of the rise during the early 1980s of Metallica, Megadeth, and Slayer, pick up the essential photo book MURDER IN THE FRONT ROW: Shots From the Bay Area Thrash Metal Epicenter, by Harald Oimoen and Brian Lew.
PLAYLIST:
VOIVOD – "Korgull the Exterminator" from RRROOOAAARRR
WHIPLASH – Spit on Your Grave" from POWER + PAIN
METALLICA – "Damage Inc." from MASTER OF PUPPETS
MEGADETH – "The Conjuring" from PEACE SELLS…BUT WHO'S BUYING?
NUCLEAR ASSAULT – "Final Flight" from BRAIN DEATH EP
SLAYER – "Criminally Insane (Remix)" from CRIMINALLY INSANE
KREATOR – "Pleasure to Kill" from PLEASURE TO KILL
TANKARD – "Zombie Attack" from ZOMBIE ATTACK
DARK ANGEL – "Darkness Descends" from DARKNESS DESCENDS
DESTRUCTION – "Life Without Sense" from ETERNAL DEVASTATION
CYCLONE – "Fall Under His Command" from BRUTAL DEVASTATION
SODOM – Deathlike Silence" from OBSESSED BY CRUELTY (EUROPEAN)
SEPULTURA – "Troops of Doom from MORBID VISIONS
SACRIFICE – "Turn In Your Grave" from TORMENT IN FIRE
Bloody Roots is Sound of the Beast author (and Bazillion Points publisher) Ian Christe's heavy metal history show on Sirius XM Liquid Metal channel 40. Since June 2004, each weekly show has examined another subgenre, band, movement, country, or theme in metal, punk, and heavy rock. The show is available on-demand online from SiriusXM.com.