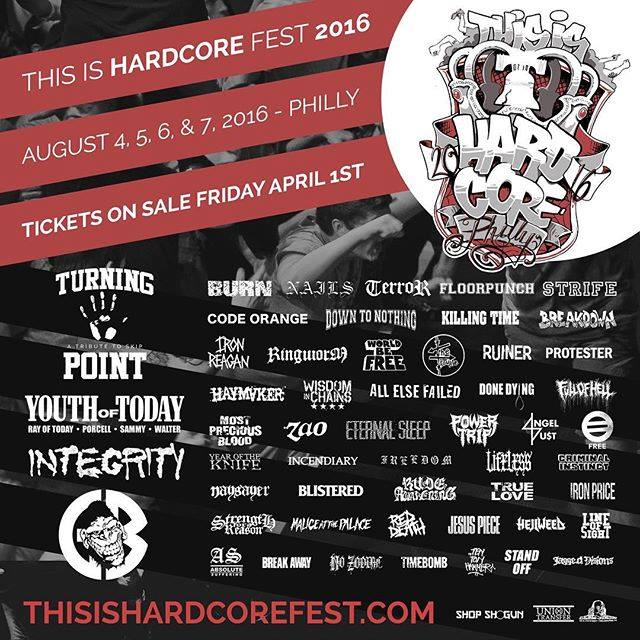 Great news for Youth Crew believers on the East Coast—wind up your Swatch X watches and find your Side by Side shirts, because Youth of Today will reunite for this summer's This is Hardcore Fest in Philadelphia on August 4–7. The band is no stranger to reunion shows, having played several over the years, but the latest rebirth of Youth was about five years ago. Also appearing are NYHC heavy-hitters including Gorilla Biscuits, Burn, Killing Time, and Breakdown; plus a wide-ranging roster including Integrity, Turning Point, Ringworm, Nails, Terror, and many others.
Bassist Walter Schreifels will be serving double duty at This Is Hardcore, also playing with Gorilla Biscuits on the third night of the Fest. But as he recently told Brooklyn Vegan, history should remember that Youth of Today had the power:
"Not to disparage any of the other lineups, but, to me, we (the four-piece lineup) were the band. We toured the world. We were the main stable lineup that toured Europe. It seems kind of crazy to me that Gorilla Biscuits would have this resurgence when Youth of Today was the best live band for sure. I think the appeal of the records is so powerful and affecting, but live was a whole other thing. Youth of Today toured the country and Europe before any NYC band. It had to do with the popularity and its iconography, but also because Ray's super DIY can-do attitude was picked up on by a lot of people. Any city where there were a core group of people who were familiar were getting their minds blown by the live show, and then the periphery of people who were newly like 'what the fuck.' We were bringing that outside of NYC more than any other NYC band."
Meanwhile, European hardcores can also catch the Youth of Today We're Not In This Alone-era lineup (Ray Cappo/John Porcelly/Walter Schreifels/Sammy Siegler) this April as they perform two shows in Berlin (one with Dag Nasty) and another in Belgium before heading off to Philly.
Youth Of Today - We're Not In This Alone [Full Album]
Head straight to the shelves:
NYHC: New York Hardcore 1980–1990, by Tony Rettman