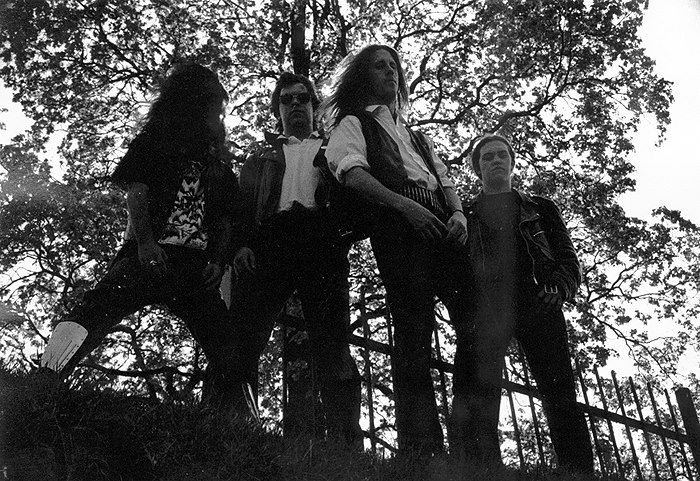 For you connoisseurs of carnal leftovers, this week's addition to the critically-acclaimed SDM Band of the Week series hails from the beautiful city of Uppsala. Known for the Fyris River which flows wildly through the city and the very large "Town Forest" central park, Uppsala is also home to tons of hardcore bands and a number of notable metal acts. Among those are the rabid wolves in Watain; Swedish Death Metal author Daniel Ekeroth's own project Usurpress; and the now defunct creme-de-la-creme of modern trad metal, In Solitude.
One of the most revered precursors of the above bands is Sarcasm. Despite the name, Sarcasm was rather serious in endeavoring to combine the weight of death metal with the freezing cold atmosphere of black metal. What resulted was a rather unique sound, which, though frequently compared to Dissection, was unique in tying melodic into extreme music. As Ekeroth writes: "They produced a couple rehearsals that sounded like Autopsy, but soon developed a more original style. Melodic yet crushing riffs…and ghastly vocals really made Sarcasm stand out."
The band's swan song, the A Touch of the Burning Red Sunset demo, is precisely as Ekeroth describes, a swamp of primal riffing with icy tremelo-picked leads and the occasional red hot lick for great effect. Afterwards, members ventured out into myriad other deathly groups, including Skitsystem, Third Storm, Embalmed, Firespawn, Defleshed, Dark Funeral, and Usurpress.
Sarcasm - A Touch Of The Burning Red Sunset - Full Demo 1994
A couple years back, our friends at Dark Descent Records released the Burial Dimensions compilation, which includes all the band's demos as well as an unreleased debut album from 1994! So seek out the compilation, and here enjoy the band's final demo in all of it's blackened glory!