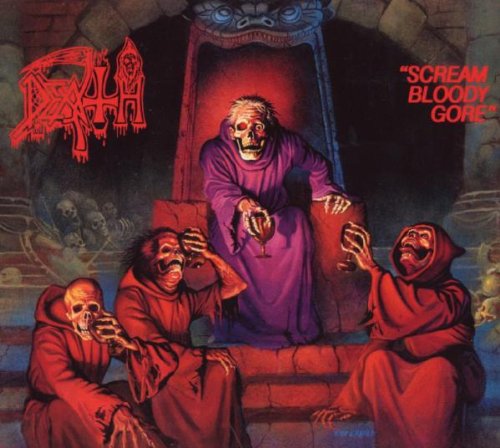 BLOODY ROOTS OF DEATH's SCREAM BLOODY GORE on Sirius XM
Week of April 30, 2016
Sat 4/30, 6PM ET
Sun 5/1, 1PM ET
Mon 5/2, 9AM ET
Tues 5/3, 4PM ET
Thurs 5/5, 9PM ET
Chuck Schuldiner's long road to creating Death's 1987 debut Scream Bloody Gore, with gristly demo-era tracks by Death, Mantas, Genocide, Repulsion, Massacre, Slaughter (CA), D.R.I., Autopsy, and others. Know your Bloody Gore!
For more history of the demo tape trading and early death metal years, check out www.bazillionpoints.com
PLAYLIST:
DEATH – "Baptized in Blood" from SCREAM BLOODY GORE
MANTAS – "Evil Dead" from DEATH BY METAL
DEATH – "Infernal Death" from INFERNAL DEATH DEMO
SLAUGHTER – "Disintegrator -Incinerator" from
GENOCIDE – "The Stench Of Burning Death" from 1986 DEMO
D.R.I – "Sad To Be" from DIRTY ROTTEN LP
DEATH – "Mutilation" from MUTILATION DEMO 1986
MASSACRE – "Mutilated" from AGGRESSIVE TYRANT DEMO 1986
AUTOPSY "Charred Remains" from CRITICAL MADNESS DEMO 1988
REPULSION – "Eaten Alive" from 1986 DEMO
REPULSION – "Horrified" from HORRIFIED
DEATH – "Zombie Ritual" from SCREAM BLOODY GORE
NIHILIST – "Supposed to Rot" from 1988 DEMO
CRYPTIC SLAUGHTER – "Rest in Pain" from LIFE IN A GRAVE DEMO 1985
Bloody Roots is Sound of the Beast author and Bazillion Points publisher Ian Christe's heavy metal history show on Sirius XM Liquid Metal channel 40. Launched in June 2004, each weekly show has examined another subgenre, band, movement, country, or theme in metal, punk, and heavy rock. Past episodes are available on-demand online from SiriusXM.com.