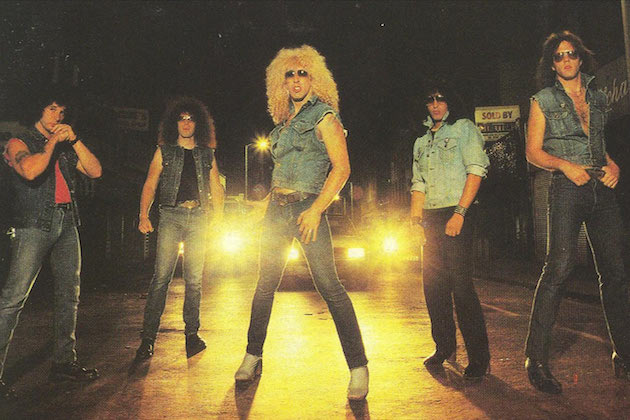 BLOODY ROOTS SALUTES FORTY YEARS OF TWISTED FUCKING SISTER on SIRIUS XM
Week of May 21, 2016
Sat 5/21, 6PM ET
Sun 5/22, 1PM ET
Mon 5/23, 9AM ET
Tues 5/24, 4PM ET
Thurs 5/26, 9PM ET
Before striking multi-platinum as monstrous MTV metal video stars in 1984, New York's raucous Twisted Sister mastered its sound, image, and live show as hungry regional club superstars. On early albums, the band absorbed the lessons of Motörhead, Saxon, and Iron Maiden, and delivered a counterpunch to British metal's dominance. Today we honor forty years of enormous spirit, giant hair, and bare-knuckle S.M.F attitude with rare tracks by Twisted Sister plus an all-star array of tributes by Motörhead, Cradle of Filth, Sabaton, Entombed, Hammerfall, Vision of Disorder, Broken Hope, and more. Know your Roots!
PLAYLIST
TWISTED SISTER – "Sin After Sin" from READING 1982
TWISTED SISTER – "You Can't Stop Rock 'n Roll" from YOU CAN'T STOP ROCK AND ROLL
MOTORHEAD – "Shoot Em Down" from TWISTED FOREVER
HAMMERFALL – "Were Gonna Make It" from MASTERPIECES
ENTOMBED – "Tear It Loose" from SONS OF SATAN PRAISE THE LORD
HAIL OF BULLETS – "Destroyer" from WARSAW RISING EP
DIMMU BORGIR – "Burn In Hell" from PURITANICAL EUPHORIC MISANTHROPIA
CRADLE OF FILTH – "The Fire Still Burns" from TWISTED FOREVER
NOCTURNAL BREED – "Under the Blade" from NO RETREAT…NO SURRENDER
BROKEN HOPE – "Captain Howdy" from REPULSIVE CONCEPTION
SABATON – "The Beast" from PRIMO VICTORIA
VISION OF DISORDER – "Don't Let Me Down" from TWISTED FOREVER
TWISTED SISTER – "S.M.F." from STAY HUNGRY
Bloody Roots is Sound of the Beast author and Bazillion Points publisher Ian Christe's heavy metal history show on Sirius XM Liquid Metal channel 40. For over 12 seasons, each weekly show has examined another subgenre, band, movement, country, or theme in metal, punk, and heavy rock. Past episodes are available on-demand online from SiriusXM.com.