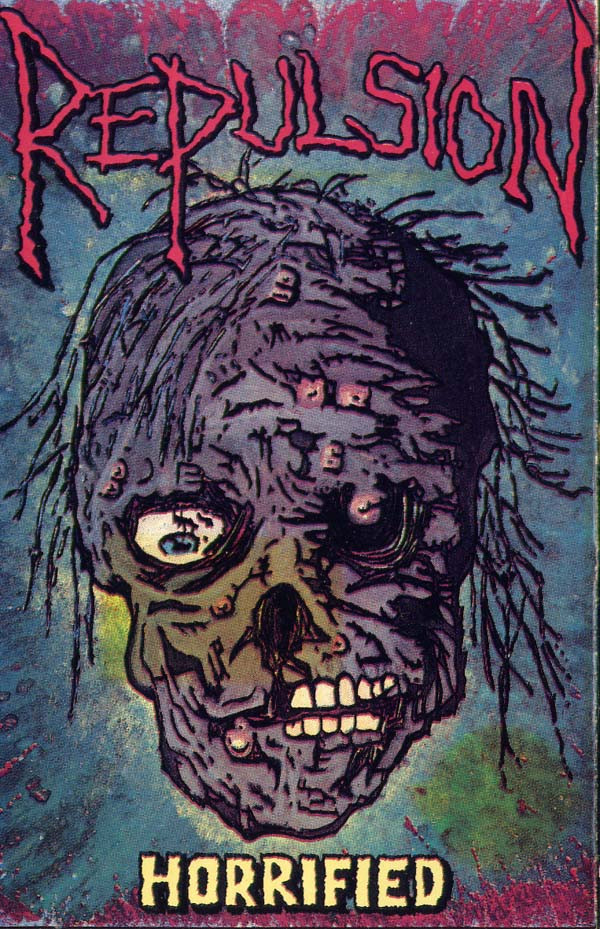 Bloody Roots Excavates Thirty Festering Years of REPULSION's Horrified
Week of July 9, 2016
Sat 7/9, 6PM ET
Sun 7/10, 1PM ET
Mon 7/11, 9AM ET
Tues 7/12, 4PM ET
Thurs 7/14, 9PM ET
Grab a spade and a key to the cemetery gate, this week's metal history show examines the June 1986 recording of REPULSION's visionary debut LP, Horrified. Prepare for visions from the gruesome dawn of death metal and grindcore, complete with demo tracks by pre-Repulsion band Genocide; music from contemporaries Terrorizer and Death; and Repulsion tributes by the stunning sea of bands they inspired, including Napalm Death, Entombed, Toxic Holocaust, Dew-Scented, Necrony, Nihilist, Cretin, and more. Know your Roots!
PLAYLIST:
REPULSION – "Black Breath" from HORRIFIED
GENOCIDE – "The Stench Of Burning Death" from WFBE DEMO JAN 1986
DEW-SCENTED – "Radiation Sickness" from INTERMINATION
NECRONY – "Bodily Dismemberment" from NECRONYCISM: DISTORTING THE ORIGINALS
TOXIC HOLOCAUST – "Helga Lost Her Head" from CONJURE AND COMMAND
UNHOLY GRAVE – "Excruciation" from TERRORAGING CRISIS
NIHILIST – "Radiation Sickness" from PREMATURE AUTOPSY
P.L.F. – "Driven To Insanity" from DISTURBANCE PROJECT SPLIT
INVERACITY – "Eaten Alive" from INSISION SPLIT
REPULSION – "Splattered Cadavers" from HORRIFIED
TERRORIZER – "Whirlwind Struggle" from WORLD DOWNFALL
DEATH – "Zombie Ritual" from MUTILATION DEMO
NAPALM DEATH – "Maggots in Your Coffin" from LEADERS NOT FOLLOWERS
SHELLSHOCK – "Acid Bath" from IMPERIAL COMBAT DETONATION EP
ENTOMBED – "Black Breath" from SONS OF SATAN PRAISE THE LORD
NOISEM – "Slaughter Of The Innocent" from OCCULTIST SPLIT
CRETIN – "Eaten Alive" from TRIBUTE TO REPULSION
CEPHALIC CARNAGE – "Decomposed" from TRIBUTE TO REPULSION
DEATH BREATH – "Giving Head to the Dead" from LET IT STINK
CHURCH OF MISERY – "Make Them Die Slowly" from AND THEN THERE WERE NONE
REPULSION – "Horrified" from HORRIFIED
Bloody Roots is Sound of the Beast author and Bazillion Points publisher Ian Christe's heavy metal history show on Sirius XM Liquid Metal channel 40. Launched in June 2004, each weekly show has examined another subgenre, band, movement, country, or theme in metal, punk, and heavy rock. Past episodes are available on-demand online from SiriusXM.com.