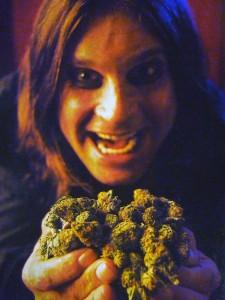 Today marks the 45th anniversary of the release of Black Sabbath's third album, Master of Reality. With that comes a congratulatory birthday for "Sweet Leaf," the LP's opening track, the anthem that coughed up the perpetually smoking groundwork for all the stoner rock that followed. Would it blow your mind to know the song was not originally about smoking pot at all? Whoa!
Nonetheless, over at weed culture site The Kind, HEAVY METAL MOVIES author Mike "McBeardo" McPadden honors the event with the tribute "Black Sabbath's Epic Stoner Anthem 'Sweet Leaf' Turns 45," where he writes:
Opening with a tape loop of guitarist Tony Iommi ferociously coughing after taking a hit off a joint with vocalist Ozzy Osbourne, "Sweet Leaf" hurled stoner rock into being on July 21, 1971. Within the 18 months prior to releasing Master of Reality, Black Sabbath had invented heavy metal outright with its debut LP, and predicted punk with its second full-length record, Paranoid… "Sweet Leaf" then created a new strain of hard and heavy music as intoxicating to hear every time as the herb being celebrated was the very first time it introduced you to your mind."
In honor of the occasion, the article rounds up "Sweet Leaf" covers by Pantera, Six Feet Under, Godsmack, Alice in Chains, Sacred Reich, Mogwai, Cadaver, Primitive Man, Weedpecker, Thou, the Flaming Lips, Quiet in the Cave, Gov't Mule, plus a few more, including the Butthole Surfers' acid-blasted destruction/reconstruction, "Sweat Loaf."
https://www.youtube.com/watch?v=JYGoougMHSQ
Celebrate accordingly!