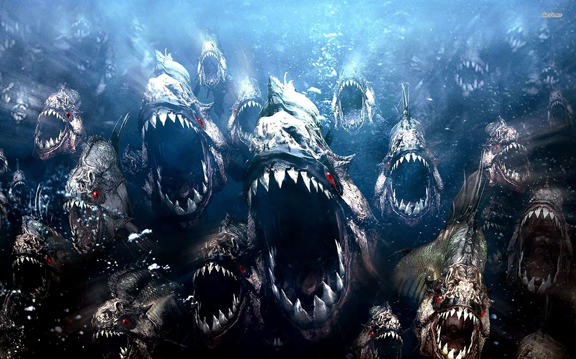 Bloody Roots of Metal: When Animals Attack! on Sirius XM
Week of July 23, 2016
Sat 7/23, 6PM ET
Sun 7/24, 1PM ET
Mon 7/25, 9AM ET
Tues 7/26, 4PM ET
Thurs 7/28, 9PM ET
Beware of the angry beasts! Host Ian Christe (Bazillion Points) kicks off summer 2016 with an onslaught of angry wolves, sharks, reanimated snakes, dogs, killer fish, wild stallions, Christian-eating lions, singing pit bulls, grindcore parrots, crocodiles, hornets, elephants, other hoofed, winged, and furry creatures running amok. Demented zookeepers include Exodus, Wehrmacht, Rainbow, Caninus, Hatebeak, Satyricon, Morbid Angel, Eagle Claw, Nunslaughter, Saint Vitus, and many many more. Bloody Roots unleashed… know your animal roots!
For a complete guide to heavy metal monster movies, animal invasions, and other natural disasters, check out HEAVY METAL MOVIES: Guitar Barbarians, Mutant Bimbos & Cult Zombies Amok in the 666 Most Ear- and Eye-Ripping Big-Scream Films Ever!
PLAYLIST:
RAINBOW – "Run With the Wolf" from RISING
WEHRMACHT – "Shark Attack" from SHARK ATTACK
ZIMMERS HOLE – "Re-Anaconda" from LEGION OF FLAMES
EXCITER – "Iron Dogs" from HEAVY METAL MANIAC
EXODUS – "Piranha" – THE ULTIMATE REVENGE
SAINT VITUS – "White Stallions" from SAN DIEGO 2010
MORBID ANGEL – "The Lion's Den" from COVENANT
CANINUS – "Bite the Hand That Breeds You" from WHEN THE ANIMALS HAVE A VOICE
HATEBEAK – "Hellbent For Feathers" from BIRDFLESH SPLIT
NEKROFILTH – "Crocodile" from DEVIL'S BREATH
SATYRICON – "Black Crow On A Tombstone" from THE AGE OF NERO
NUNSLAUGHTER – "Hornets in the Chapel" from SLOTH SPLIT
EAGLE CLAW – "Elephant" from ELEPHANT
ALESTORM – "Death Throes of the Terrorsquid" from BACK THROUGH TIME
Bloody Roots is Sound of the Beast author and Bazillion Points publisher Ian Christe's heavy metal history show on Sirius XM Liquid Metal channel 40. Launched in June 2004, each weekly show has examined another subgenre, band, movement, country, or theme in metal, punk, and heavy rock. Past episodes are available on-demand online from SiriusXM.com.