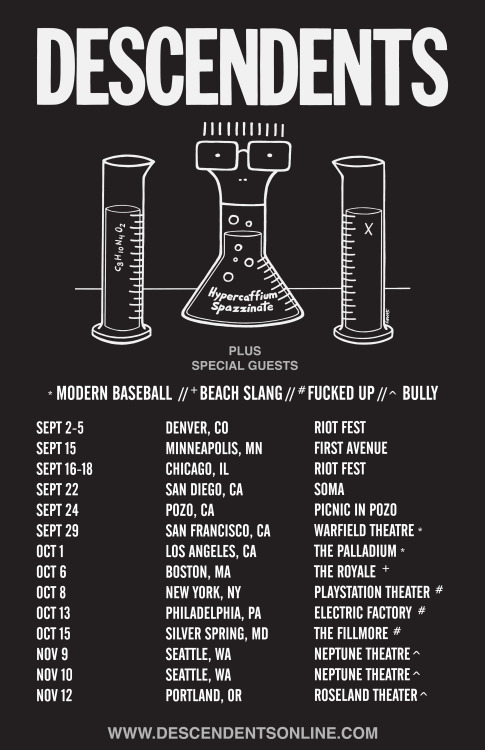 Today Southern California punk legends Descendents are unleashing Hypercaffium Spazzinate, their seventh long-player. This is the hugely influential group's first album since 2004's Cool to Be You, and their second for Epitaph Records following Everything Sucks all the way back in ye old 1996.
NPR First Listen is streaming the entire album AT THIS LOCATION. Suffice to say, Hypercaffium Spazzinate brings the band's awkward, earnest, non-stop power with full catchy force, clocking sixteen tracks in a whirlwind half hour. Sonically, this is frontman Milo Aukerman's dream come true: "a better, more potent version of caffeine."
You can order Hypercaffium Spazzinate AT THIS LOCATION, and start getting your spazzy slam game in order for the Descendents' North American tour this fall with Modern Baseball, Fucked Up, and Bully.
And feast your eyes on Joe Carducci's heavy, photo-rich chapter on the original Descendents lineup in our powerhouse anthology WE GOT POWER!: Hardcore Punk Scenes from 1980s Southern California Punk by David Markey and Jordan Schwartz.
Read WE GOT POWER!