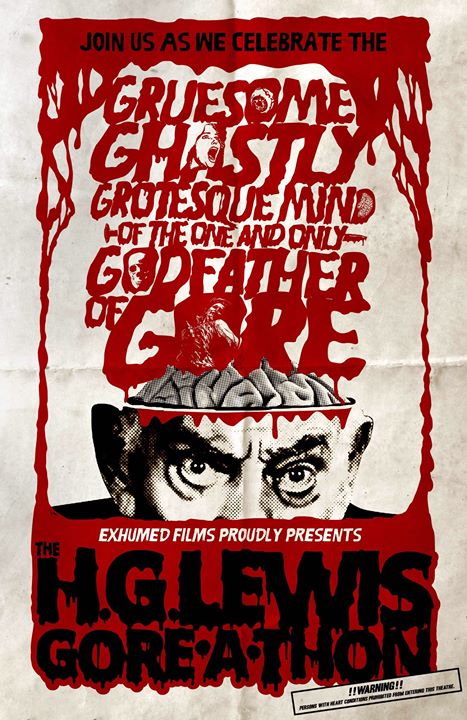 Strap in for this month's best metal, punk, and other hard-rock-related movies currently streaming online, actively screening in theaters, and/or newly arrived on Blu-ray, with gratuitous guidance from Mike "McBeardo" McPadden, author of Heavy Metal Movies: Guitar Barbarians, Mutant Bimbos, and Cult Zombies Amok in the 666 Most Ear- and Eye-Ripping Big Scream Films Ever!
Part I. Streaming Bloody Gore via Netflix in August 2016
Deathgasm (2015)
Deathgasm - Official Trailer - (2015)
Behold: an instant classic. The outrageous New Zealand splatter comedy Deathgasm essentially combines slams together elements of just about every film reviewed in Heavy Metal Movies—i.e., horror, gore, the occult, gross-out gags, temptress demons, zombie massacres, and, above all, monstrously headbanging music. The only shocking element is that Deathgasm gets all those ingredients all right and, with the proper balance of respect and irreverence, whips them into a heady brew of hellfire, hilarity, and soul-bruising metal.
I Am Thor (2016)
Jon Mikl Thor's evolution from exotic danger to musclebound theatrical rock maven to internationally adored elder statesman of heavy metal music makes for a moving, amusing, and unexpectedly inspiring documentary. In every sense, the movie is all about the man—and Thor is man that's endlessly engaging to watch. Rest assured: Zombie Nightmare (1986) and Rock 'n' Roll Nightmare (1988) receive ample coverage.
We Are Twisted F**king Sister (2016)
We Are Twisted F***ing Sister! Official Trailer 1 (2016) - Documentary HD
The legend of Twisted Sister as an unparalleled 1970s suburban New York club act at last gets its due, and it's a riot. We Are Twisted F**king Sister expertly chronicles Long Island's loudest as they rise from too-late-to-the-lipstick-orgy glitter rock hooligans to venue-packing cult sensations that no record company would touch to, momentarily, the biggest hard rock act on the planet that also, by way of frontman Dee Snider's anti-censorship congressional testimony, may have been the boldest. It's an epic saga, hilariously spun by Snider, founding guitarist Jay Jay French, and bassist Mark "The Animal" Mendoza, each of whom could have been a professional comedian had the music thing not worked out. And now that Twisted Sister is officially retiring, they still can.
---
Part II. Tearing up Theatres in August 2016
The H.G. Lewis Gore-a-Thon
When: August 21, 2016
Where: International House, Philadelphia, PA
Blood Feast (1963)
2000 Maniacs (1964)
Color Me Blood Red (1965)
The Gruesome Twosome (1967)
The Wizard of Gore (1970)
Blood Feast (1963) Trailer
Get to Exhumed Films' all-day screening of five splatter classics by Herschell Gordon Lewis——cinema's original "Godfather of Gore"—with Lewis himself, live in person, talking about each film between showings. Herschel Gordon Lewis's extreme impact on heavy metal lyrics, sensibilities and overall lunatic aesthetic cannot be overstated. On top of that, at 87, he's as witty, sharp, and charming as ever; you'll be amazed at how so gracious and well-spoken a gentleman could have conceived and unleashed such primordial and profoundly influential madness upon the world.
Buy tickets for the H.G. Lewis Gore-a-Thon here.
Cat in the Brain (1990)
Grindhouse Releasing presents midnight shows at Cinefamily LA and Alamo Drafthouse Denver of Italian splatter maestro Lucio Fulci's Cat in the Brain. Fulci himself stars in this heady meta-horror as a director driven to hyper-violent madness by his own hyper-violently mad movies. What a trip!
Check for a theatre near you via GRINDHOUSE RELEASING
The screenings coincide with Diabolik DVD's recent release of a 3-disc deluxe Cat in the Brain Blu-ray and CD box. More info on that RIGHT HERE
---
Part III. Blowing up Blu-Ray in August 2016
Dr. Butcher, MD (1981), aka Zombie Holocaust
Trailer- "Dr. Butcher M.D." (1981)
The all-time gruesome grindhouse great grosses out anew in more vividly vomit-inducing high-definition than ever before. Severin's incredible package includes both the Dr. Butcher version of the film that freaked out U.S. audiences in trashpit movies houses and on big box VHS tapes, and the original uncut Zombie Holocaust from Italy. Special features include cast and crew interviews, making-of documentaries, and an examination of the "Butchermobile," a speeding truck promoted the movie around Manhattan by carting horror zine editors Rick Sullivan (The Gore Gazette) and Michael Weldon (Psychotronic) in evil surgeon costumes. Sullivan even emerges from retirement to talk on camera!
For more info: SEVERIN FILMS
---
Kiss Rocks Vegas (2016)
KISS ROCKS VEGAS 60 Second Trailer
On May 25, 2016, the epic 3D concert movie Kiss Rocks Vegas played theaters for one night (and one night only). Now you can relive that movie magic any and every time you want in all manner of formats. Kiss Rocks Vegas hits home video in versions as DVD+CD ($21.98), Blu-ray+CD ($26.98), DVD+2LP ($39.98), and Deluxe Edition DVD+Blu-ray+2CD ($79.98). The deluxe edition comes with a 12″x12′ hardcover book, and both a video and CD of a seven-song "unplugged" set.
Check out KISS MY CINEMA for details
---
See you in September!
Keep your watching wishlist full with  HEAVY METAL MOVIES: Guitar Barbarians, Mutant Bimbos, and Cult Zombies Amok in the 666 Most Ear- and Eye-Ripping Big Scream Films Ever!