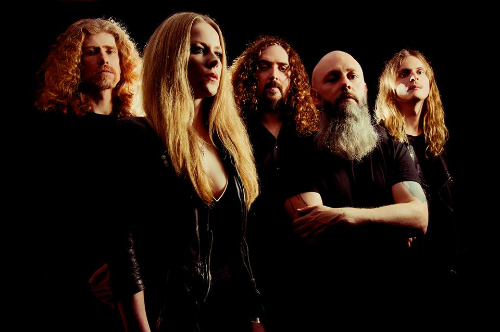 BLOODY ROOTS OF HAUNTING FEMALE-FRONTED HEAVY OCCULT METAL
Week of September 3, 2016
Sat 9/3, 6PM ET
Sun 9/4, 1PM ET
Mon 9/5, 9AM ET
Tues 9/6, 4PM ET
Thurs 9/8, 9PM ET
This week's metal history lesson explores the current inundation of female-fronted heavy doom bands trafficking in occult and black magic themes. Host Ian Christe (Bazillion Points, "Sound of the Beast") summons the best of recent incantations by Castle, Lucifer (pictured), Wooden Stake, Holy Grove, Serpentcult, Cauchemar, Mansion, and more. Know your Roots!
PLAYLIST:
HOLY GROVE – "Death of Magic" from HOLY GROVE
COVEN – "Blood On the Snow" from BLOOD ON THE SNOW
LUCIFER – "Izrael" from IZRAEL
RUBY THE HATCHET – "Paralyzed" from ELIMINATOR
MOUNT SALEM – "Lucid" from ENDLESS
SERPENTCULT – "Screams From the Deep" from WEIGHT OF LIGHT
JEX THOTH – "The Places You Walk" from CIRCLES EP
CASTLE – "Hammer and the Cross" from WELCOME TO THE GRAVEYARD
WOODEN STAKE – "Hanging from the Inverted Cross" from DRAGGED THROUGH THE ROTTED CATACOMBS
CAUCHEMAR – "Oiseau de Feu" from CHAPELLE ARDENTE
PSYCHEDELIC WITCHCRAFT – "The Night" from THE VISION
MANSION – "Traitor's Dirge" from ALTAR SERMON
THE DEVIL'S BLOOD – "The Heavens Cry Out For The Devil's Blood" from COME, REAP
Bloody Roots is Sound of the Beast author (and Bazillion Points publisher) Ian Christe's heavy metal history show on Sirius XM Liquid Metal channel 40. Since June 2004, each weekly show has examined another subgenre, band, movement, country, or theme in metal, punk, and heavy rock. The show is available on-demand online from SiriusXM.com.