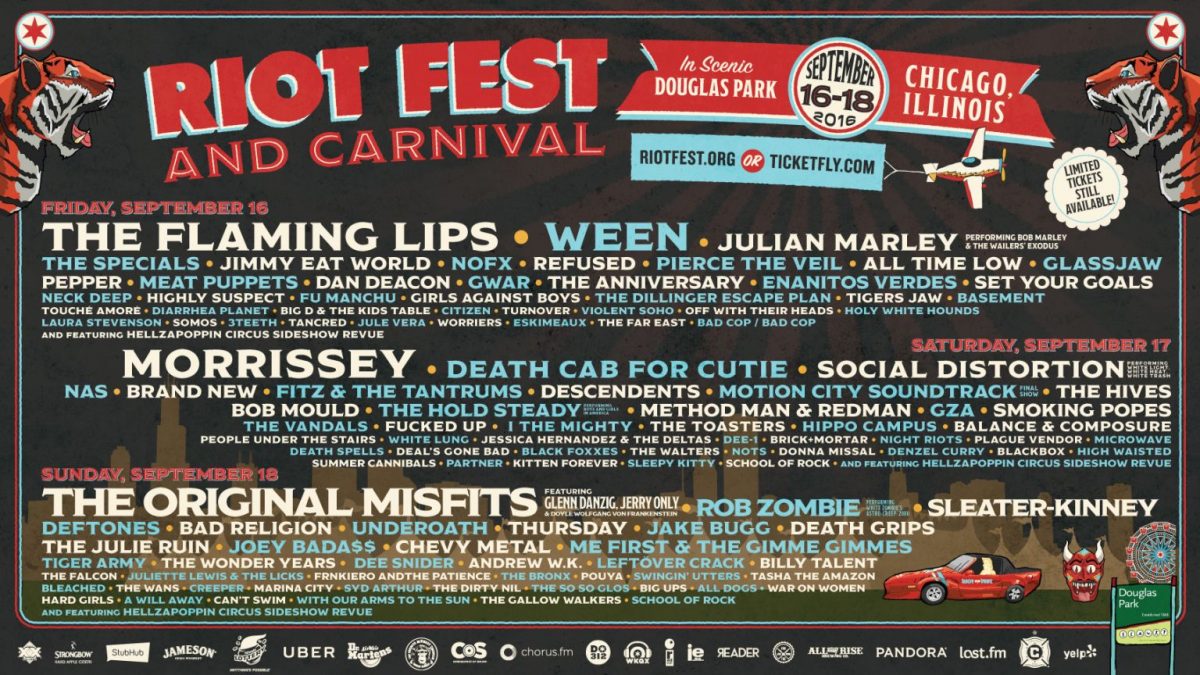 For party-worn punkers and first-time fiends alike, the big event this weekend will be Chicago's Riot Fest and Carnival. Dozens of key acts will be leaping into action, straight from the pages of a range of Bazillion Points books.
Riot Fest Chicago 2016 Teaser Video
If the Original Misfits' recent Denver Riot Fest rampage is any indication, Glenn Danzig, Jerry Only, and Doyle Wolfgang von Frankenstein (plus Slayer veteran Dave Lombardo behind the drum kit) will be pummeling concertgoers anew, seemingly possessed by the same savage, sanguine rock demons that first launched them forth out of Lodi, New Jersey in the early 1980s. Fortunately, Bazillion Points has the reunion covered, as Misery Obscura: the Photography of Eerie Von (1981-2009) is now available to pre-order. Coincidence? Yes it is, and a good one at that. Now let the worlds collide, and let the day begin.
Further along the hardcore punk pipeline, Riot Fest will feature acts covered extensively in both We Got Power!: Hardcore Punk Scenes From 1980s Southern California and Touch and Go: The Complete Hardcore Punk Zine '79-83, include the Descendents, Bad Religion, Social Distortion, the Vandals, the Meat Puppets, and that glorious ex-Hüsker Dü dandy, Bob Mould.
Opening for the Original Misfits on Sunday will be one of their highest-profile devil-rock followers, Rob Zombie, a figure who also features frequently in Heavy Metal Movies: Guitar Barbarians, Mutant Bimbos, and Cult Zombies Amok in the 666 Most Ear- and Eye-Ripping Big Scream Films Ever!
Brush up on your own copies, or catch up with us after the Fest to replenish your library. You can also catch wind of most of our books at Quimby's Bookstore, located at 1854 W North Ave. in Chicago. We sent them a few boxes this week, just in time for the riot…