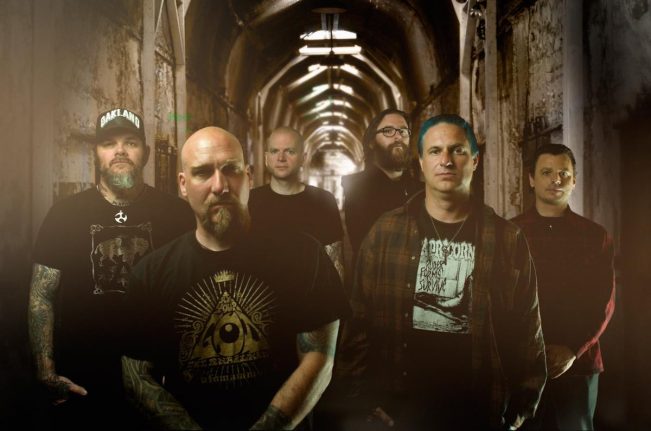 BLOODY ROOTS CELEBRATES THIRTY YEARS OF NEUROSIS
Week of Sept 17, 2016
Sat 9/17, 6PM ET
Sun 9/18, 1PM ET
Mon 9/19, 9AM ET
Tues 9/20, 4PM ET
Thurs 9/22, 9PM ET
Gather together, all tribes of outlanders, for a special celebration honoring thirty years of the boundary-smashing S.F. metal collective Neurosis. From the raw crossover origins to the atmospheric masterpieces of recent years, your weekly metal history lesson delivers music by Neurosis, side projects Shrinebuilder and Jesus Fucking Christ, plus the caustic band that started it all, Violent Coercion. Know and grow your Roots!
PLAYLIST:
NEUROSIS – "Locust Star" from THROUGH SILVER IN BLOOD
VIOLENT COERCION "Neurosis – Faith or Fraud" from 1985 DEMO
NEUROSIS – "Pain of Mind" from PAIN OF MIND
NEUROSIS – "Souls at Zero" from SOULS AT ZERO
NEUROSIS AND TRIBES OF NEUROT – "Under the Surface" from TIMES OF GRACE
JESUS FUCKING CHRIST – "I'm Surrounded by Those Who Want Me Dead" from LIFE'S HATEFUL SEED
SHRINEBUILDER – "Pyramid of the Moon" from SHRINEBUILDER
NEUROSIS – "Fire Is the End Lesson" from FIRES WITHIN FIRES
Bloody Roots is Sound of the Beast author (and Bazillion Points publisher) Ian Christe's heavy metal history show on Sirius XM Liquid Metal channel 40. Since June 2004, each weekly show has examined another subgenre, band, movement, country, or theme in metal, punk, and heavy rock. The show is available on-demand online from SiriusXM.com.