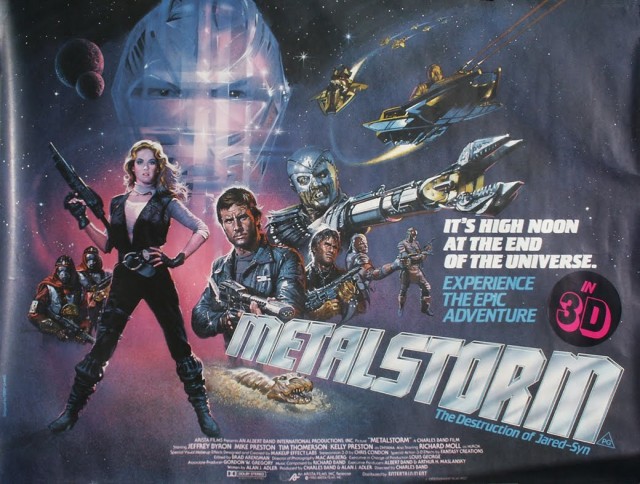 Strap in for this month's best metal, punk, and other hard-rock-related movies newly arrived on Blu-ray, with gratuitous guidance from Mike "McBeardo" McPadden, author of HEAVY METAL MOVIES: Guitar Barbarians, Mutant Bimbos, and Cult Zombies Amok in the 666 Most Ear- and Eye-Ripping Big Scream Films Ever!
---
De Palma (2016)
De Palma Movie CLIP - Carrie (2016) - Brian De Palma Movie
Brian De Palma, the mad moviemaking visionary behind the heavily metallic classics Phantom of the Paradise (1974) and Carrie (1976) is the subject of a potently penetrating documentary about his life and career in and now mostly out of the Hollywood system. Among De Palma's other cinematic milestones that pack hard headbanger appeal are Sisters (1973), The Fury (1978), Dressed to Kill (1980), Scarface (1983), Body Double (1984), and Raising Cain (1992).
De Palma presents an opportunity to get to know one of the last true Hollywood powerhouses from back when directors could rightly be deemed "rock stars."
---
Metalstorm: The Destruction of Jared-Syn in 3D (1983)
METALSTORM: THE DESTRUCTION OF JARED-SYN - Theatrical Trailer - Universal Pictures
A space cowboy, his cyborg son, and a Cyclops tribe battle with mutant minions of an intergalactic overlord on flying motorcycles—all in the miracle of Three Dimensions!
Released during the early '80s 3D revival that not only begat Friday the 13th Part 3 (1982) and Jaws 3D (1983) but issues of Kerrang! that came with 3D posters of Kiss and Hanoi Rocks (complete with cardboard eyeglasses), Metalstorm: The Destruction of Jared-Syn is largely a sci-fi extension of heavy metal culture and aesthetics of its moment. Not for nothing, after all, did multiple bands named Metalstorm emerge in the movie's wake, along with songs using that title by Slayer, Rigor Mortis, and Iron Angel.
Shout Factory's Blu-Ray release contains not only brand new glasses for watching a brand new remastered 3D print, but entire new dimensions in awe-inspiring special features.
https://www.shoutfactory.com/film/sci-fi/metalstorm-the-destruction-of-jared-syn
---
Bill and Ted's Most Excellent Collection
My MOST EXCELLENT unboxing video for 9/5/2016
Bill and Ted's Excellent Adventure (1989) and Bill and Ted's Bogus Journey (1991) get paired here for a deluxe package treatment. In addition to the time-and-space-tripping exploits of the lovably knuckle-noggined pop culture headbanger duo that predated both Wayne and Garth and Beavis and Butt-head, Shout Factory!'s Most Excellent Collection comes packed with hours upon hours of new documentaries, commentaries, and other special features, including Wyld Stallyns air guitar lessons and an interview with the two hilarious real-life heshers who initially inspired these horn-throwing heroes.
Be righteous to yourself and get your copy here:
https://www.shoutfactory.com/film/action-adventure/bill-ted-s-most-excellent-collection
---
Dead-End Drive-In (1986)
One of the very last entries in Australia's singularly earth-scorching "Ozploitation" movie cycle of the '70s and '80s (think in terms of Mad Max, Turkey Shoot, and The Cars That Ate Paris), Dead-End Drive-In offers a meta-commentary on the entire phenomenon that also functions on its own as a first-rate post-apocalyptic punk-mutant/motor-fetish/death-camp ass-stomper packed with seemingly impossible stunts, directed, as it could only be, by Brian Trenchard-Smith (Stunt Rock, BMX Bandits, The Man From Hong Kong).
Arrow Films, the UK's Criterion Collection equivalent when it comes to cult cinema, is releasing a special 30th anniversary edition of Dead-End Drive-In via its U.S. division. Get it from Diabolik DVD:
http://www.diabolikdvd.com/category/Preorders/Dead-End-Drive~In-(Arrow-US)-(Blu~Ray).html
---
Labyrinth: 30th Anniversary Edition (1986)
Coupled with Ridley Scott's Legend from the same year, Labyrinth served as a cinematic gateway into spellbinding sorcery, mystical mazes, and medieval fantasy for at least one generation of future headbangers who'd pursue each film's fanciful pleasures into heavy metal. Written by Monty Python's Terry Jones, produced by George Lucas, and directed by Jim Henson as a follow-up to his similarly semi-metal The Dark Crystal (1983), Labyrinth is rendered especially poignant now due to the passing of David Bowie. The Goblin King is dead—long live the Goblin King!
---
An American Werewolf in London: Restored 35th Anniversary Edition (1981)
You know it, you love it, and An American Werewolf in London's special "restored" edition promises up-close and crystal clear looks at the masterwork of director John Landis and visual effects sorcerer Rick Baker as never before. So what makes American Werewolf metal? For that, let's turn to the actual review in Heavy Metal Movies:
"The film's violence, frank sexuality, and humor mirrored exactly the changes happening in rock music; heavy metal leapt forward to tear away all veneers and expose the loudest, scariest, most perilous, and most electrifying components that had been lying dormant in rock… the American werewolf's death in London gave birth to the age of heavy metal horror in Hollywood."
---
Beyond the Valley of the Dolls: The Criterion Collection (1970)
Beyond The Valley of The Dolls | #TBT Trailer | 20th Century FOX
Russ Meyer, cinema's all-time maniacal maven of mountainous mammaries tapped his bosom pal and Pulitzer Prize-winning Chicago Sun Times film critic Roger Ebert to compose a screenplay for the ultimate rock-and-roll/sexploitation/splatter-horror/psychedelic-mindfuck midnight movie. On all counts, they succeeded.
That resulting film, the initially X-rated Beyond the Valley of the Dolls has been mislabeled as "bad" by tastemakers who wouldn't know genuine greatness if it ripped open its pirate shirt, popped out a surprise pair of breasts, and started running around decapitating partygoers (something like that may happen in the movie).
Fortunately, the Criterion Collection entirely gets what Meyer and Ebert were up to, and now we all get to enjoy their masterpiece in one of the company's exquisite, extras-packed Blu-rays. Let it freak you out here:
https://www.criterion.com/films/28120-beyond-the-valley-of-the-dolls
---
Chopping Mall (1986)
There is something inherently metal about 1980s shopping centers. Perhaps its because that's where so many young metalheads went record shopping and/or to both peruse and showed off their latest band tees, tight spandex, and piled-high hair.
All those elements figure heavily in Chopping Mall, alongside the movie's arguably even more metal "Killbots." Those would be the rolling, laser-shooting automatons that guard the multi-story complex after dark until, of course, they go berserk and start blasting apart patrons and, ultimately, hunt down the eight young rockers who get trapped inside the facility after dark.
---
Highlander 30th Anniversary Edition
Highlander | 30th Anniversary | Official Trailer
Highlander is a power-metal prog-rock opera in action movie form. Christopher Lambert stars as Connor MacLeod, an immortal, head-severing Scottish swordsman who careens to and fro through time from the blood-soaked bonny banks of yore to the concrete combat zones of mid-'80s Manhattan. Other immortals give pursuit to Highlander's hero, each determined to decapitate MacLeod because that will actually do him in and, according to rules they keep quoting, "There can only be one!" Sean Connery plays a Spaniard. It's all to set to a soundtrack by Queen at their most symphonically soaring. It is awesome.
Although Highlander bombed upon first release, it became a cable and home video cult sensation and a fixture among bong-passing metalhead weekend viewing parties, both before and after Headbangers Ball. It begat three big-screen sequels, two direct-to-video follow-ups, two live-action TV series, an animated TV series, numerous novels and comics books, and various multimedia games. Now you can own the original Highlander as a 30th anniversary Blu-ray. Do it. There can only be one.
---
All of this and hundreds more…for there for sure is only one HEAVY METAL MOVIES… Read it now!