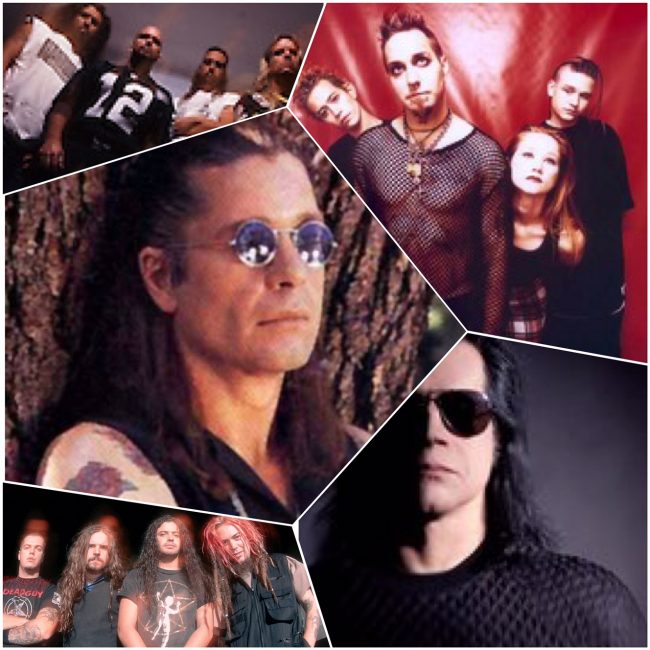 BLOODY ROOTS of OZZFEST Year One—1996
Week of Sept 24, 2016
Sat 9/24, 6PM ET
Sun 9/25, 1PM ET
Mon 9/26, 9AM ET
Tues 9/27, 4PM ET
Thurs 9/29, 9PM ET
This week's metal history lesson looks back 20 years to 1996, when a handful of trial Ozzfest trial concert dates tested the strength of metal and hard rock during the darkest hour of the alternative rock era. Though the success launched a legend, the outcome was never guaranteed. We revisit the confusing times with tracks by each participant from that year: Ozzy Osbourne, Danzig, Slayer, Fear Factory, Biohazard, Earth Crisis, Neurosis, Sepultura, and more. Know your roots!
For an adrenaline-charged look at the early days of Slayer, along with Metallica, Megadeth, Exodus, Testament, Possessed, and Death Angel, check out MURDER IN THE FRONT ROW: Shots From the Bay Area Thrash Metal Epicenter.
PLAYLIST:
SLAYER – "Gemini" from UNDISPUTED ATTITUDE
OZZY OSBOURNE – "Perry Mason" from OZZMOSIS
FEAR FACTORY – "Self-Bias Resistor" from LIVE 1995
BIOHAZARD – "Authority" from MATA LEAO
NARCOTIC GYPSY – "Madly Laughing" from NARCOTIC GYPSY
NEUROSIS – "Locust Star" from LIVE
CELLOPHANE – "Down" from CELLOPHANE
POWERMAN 5000 – "Neckbone" from THE BLOOD SPLAT RATING SYSTEM
DANZIG – "Hint of Her Blood" from 5: BLACKACIDEVIL
EARTH CRISIS – "Unseen Holocaust" from FIRESTORM
SEPULTURA – "Attitude" from OZZFEST 1996
COAL CHAMBER – "Loco" from COAL CHAMBER
Bloody Roots is Sound of the Beast author (and Bazillion Points publisher) Ian Christe's heavy metal history show on Sirius XM Liquid Metal channel 40. Since June 2004, each weekly show has examined another subgenre, band, movement, country, or theme in metal, punk, and heavy rock. The show is available on-demand online from SiriusXM.com.