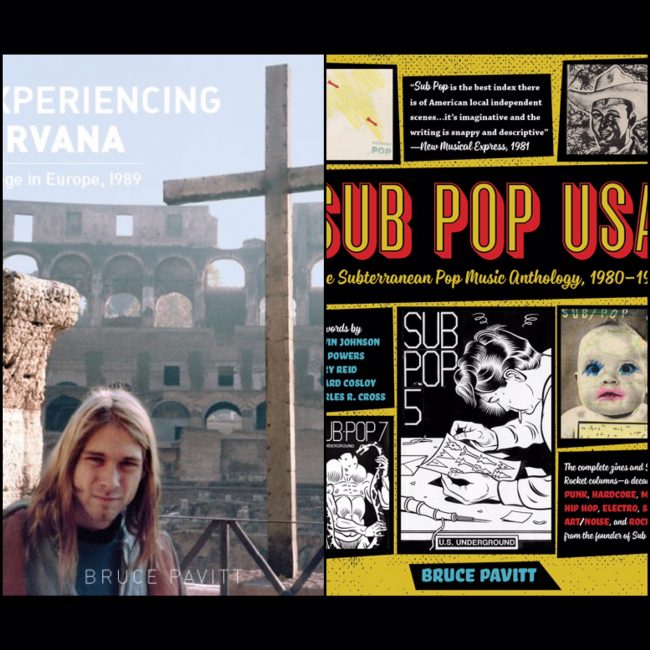 On September 24, 1991, Nevermind by Nirvana hit record stores, and soon followed a rapid conquest of radio, MTV, international pop charts, every magazine on every newsstand everywhere, and global culture at large forever after. In rock history, few equally unmistakable "before-and-after" lines exist.
The major turning of the tables involved how completely the underground music of the 1980s squeezed through the pinhole opening of the moment, leading to a highly pressurizing reshaping of the landscape. We have published two books by Sub Pop Records founder Bruce Pavitt that offer over six hundred pages of lavish insight into what made Nevermind possible.
In Experiencing Nirvana: Grunge in Europe Pavitt chronicles Nirvana's first overseas adventure with Mudhoney and Tad. Through twelve rolls of personal photographs and you-are-there recollections, Pavitt documents the shows, the travels, the lousy lodgings, the beat-up vans, and the joyful anarchy of ascending rock giants.
On Nevermind's anniversary, especially notable is how Experiencing Nirvana captures the trio's 1989 triumph in England. Riding hard on their first album Bleach Kurt Cobain, Krist Novoselic, and Chad Channing turned an early opening slot into a star turn, earning Beatles comparisons from the notoriously fickle UK music press. Pavitt's book delivers the excitement of that bolt of lightning.
Neither Nirvana nor their music came out of nowhere, though. Pavitt's SUB POP USA: The Subterranean Pop Anthology 1980–1988 tracks how alternative pop, metal, punk, and hip hop evolved through the 1980s to eventually grasp hold of the 1990s. Over a thousand bands in hand, and you can bet Kurt Cobain had heard most of them. Before his band put out its first Sub Pop single in 1988, out in Aberdeen, WA, Cobain was a regular reader of Pavitt's Sub Pop column in the Seattle Rocket. All of those columns are collected in the book, along with each issue of the earlier Subterranean Pop magazine.
Pick up both Bruce Pavitt books as a set for a combined $39.95 for a limited time AT THIS LOCATION.
But wait, we're not done! For an up-close immersion into Nirvana just as they exploded into history, check out our WE GOT POWER! coauthor David Markey's acclaimed documentary, 1991: The Year Punk Broke, capturing Nirvana on tour with Sonic Youth just as Nevermind hit. Needless to say, Markey's book more than covers the origins of the hardcore punk side of Nirvana's abrasive sound.
Okay, now we're done. So where were you in 1991, anyway?