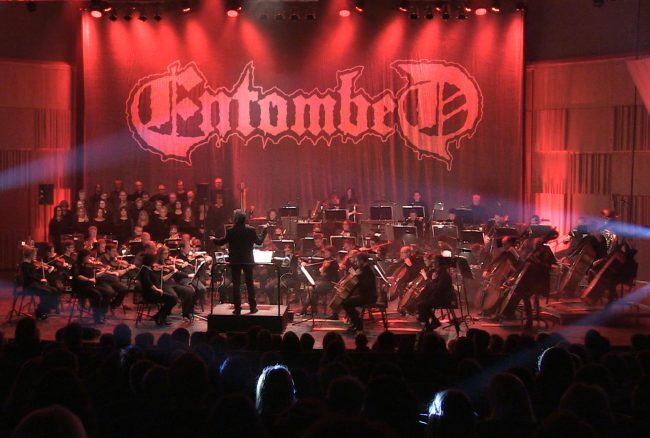 "What more can I possibly say about Entombed?" author Daniel Ekeroth writes in Swedish Death Metal. "Probably the most important and influential Swedish Death Metal band, they are also one of the best bands of any kind Sweden has ever offered."
There is a lot to say at the moment. Entombed A.D., the band led by original vocalist Lars Göran Petrov, continues to tour globally and consume alcohol ferociously. Meanwhile, Entombed's founding guitarists Alex Hellid and Ulf "Uffe" Cederlund will be joined by original drummer/longtime mastermind Nicke Andersson in Malmö, Sweden, on November 12 for a two-act orchestral-meets-death metal performance of the group's 1991 sophomore record, Clandestine.
Act One will feature the members of Entombed sitting in with the 100-piece Malmö Symphony Orchestra—plus a full choir—to perform multi-genre Swedish visionary Thomas Von Wachenfeldt's arrangement of Clandestine. Act Two, the death metal portion, is set to showcase the band (joined by Von Wachenfeldt on bass and Orvar Säfström singing lead) blasting though Clandestine live, in its entirety, which they've never done before. As Nicke Andersson points out: "It's about damn time!"
The band has also launched a Pledgemusic site to finance capturing the preservation of the concert via a live album and DVD release, using on a five-camera shoot and full 5.1 sound recording.
Nearly simultaneously, Decibel magazine recently announced that the December issue will induct Clandestine into its Hall of Fame. Decibel editor and Choosing Death author Albert Mudrian crows: "Clandestine is one of the greatest death metal records—Swedish or otherwise—of all time."
The Clandestine event will come on the heels of Entombed's October 27 headlining reunion gig on board M/S Silija Galaxy as part of the Close-Up Båten Cruise. Bazillion Points will be on board, offering the heaviest reading known to mankind as ballast. Sorry, sailors, tickets to that expedition have already sold out. Order your hardcovers here and get the Swedish Death Metal patch here: