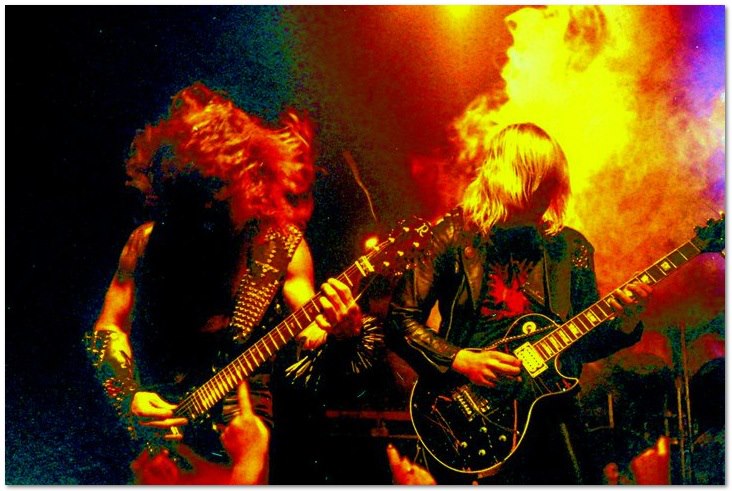 Above: Kerry King and Jeff Hanneman of Slayer, from MURDER IN THE FRONT ROW (photo by Harald Oimoen)
Bloody Roots Salutes 30 Years of Slayer's Reign in Blood on SiriusXM
Sat 10/1, 6PM ET
Sun 10/2, 1PM ET
Mon 10/3, 9AM ET
Tues 10/4, 4PM ET
Thurs 10/6, 9PM ET
Straight down from the lacerated sky, this week Bloody Roots honors 30 years of Slayer's undisputed metal classic Reign in Blood. Rising above the thrash metal wave, Slayer's clinical and violent major label debut shook the mainstream and even fed the rising undercurrent of death metal. Prepare for a downpour of rare and live Slayer tracks, plus covers by Carnifex, Edge of Sanity, Mortician, Havok, Profanator, and others, as we slice cut by cut through Reign in Blood in all its violent glory. Know your Roots!
For a raw and personal ride through the early days of Slayer, featuring nearly 100 photos of the band alongside hundreds more of thrash colleagues Metallica, Megadeth, Exodus, Testament, Possessed, and Death Angel, come face to face with: MURDER IN THE FRONT ROW: Shots From the Bay Area Thrash Metal Epicenter.
PLAYLIST
SLAYER – "Angel of Death" from REIGN IN BLOOD
CARNIFEX – "Angel of Death" from HELL CHOSE ME
SLAYER – "Piece by Piece" from STILL REIGNING
MORTICIAN – "Piece by Piece" from STRAIGHT TO HELL
THE KILL – "Necrophobic" from MAKE 'EM SUFFER
ELIMINATOR – "Altar of Sacrifice – Jesus Saves" from ELIMINATOR
SLAYER VS RICK RUBIN – "Criminally Insane Remix" from CRIMINALLY INSANE 12″
EDGE OF SANITY – "Criminally Insane" from SLATANIC SLAUGHTER
SLAYER – "Reborn" from REIGN IN BLOOD
PROFANATOR – "Epidemic" from DEATHPLAGUED
HAVOK – "Postmortem – Raining Blood" from TIME IS UP
SLAYER – "Raining Blood" from STILL REIGNING
ROB SCALLON – "Raining Blood (Banjo)" from ROB SCALLON
Bloody Roots is Sound of the Beast author (and Bazillion Points publisher) Ian Christe's heavy metal history show on Sirius XM Liquid Metal channel 40. Since June 2004, each weekly show has examined another subgenre, band, movement, country, or theme in metal, punk, and heavy rock. The show is available on-demand online from SiriusXM.com.