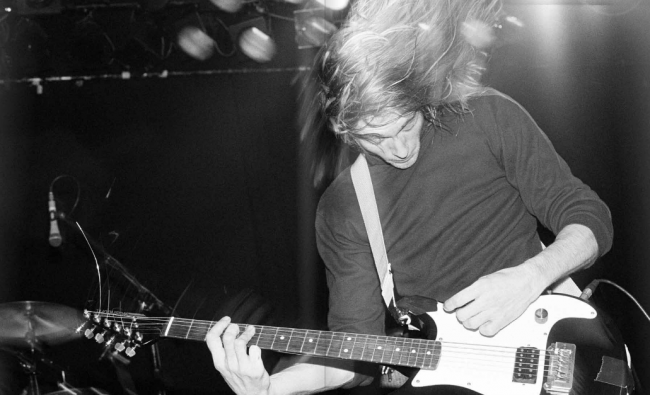 BLOODY ROOTS OF GRUNGE AND METAL
Week of October 8, 2016
Sat 10/8, 6PM ET
Sun 10/9, 1PM ET
Mon 10/10, 9AM ET
Tues 10/11, 4PM ET
Thurs 10/13, 9PM ET
Honoring Seattle-area long-haired punk music to mark the 25th anniversary of Nirvana's surprise breakthrough Nevermind, Bloody Roots digs the distortion and flannel of grunge acts like Tad, Nirvana, Earth, Mudhoney, and Soundgarden. Host Ian Christe ("Sound of the Beast"/Bazillion Points) braves the rain and fog and extracts the heaviest moments of the bands above plus Fecal Matter, Green River, and the pinnacle of sludge, the Melvins. Also featured: grunge covers by S.O.D., Grave, Opeth, Machine Head, Impaled, Thou, and more. Slow your Roots!
Above photo of Kurt Cobain / Nirvana, by Steve Double, from the book Experiencing Nirvana: Grunge in Europe, 1989, by Bruce Pavitt.
PLAYLIST:
Tad – "Salem" from Salem EP
Melvins – "Heaviness of the Load" from Gluey Porch Treatments
Fecal Matter – "Downer" – from Illiteracy Will Prevail
The U-Men – "Dig It a Hole" from Solid Action
Soundgarden – "Head Injury" from Ultramega OK
Earth – "Tallahassee" – from Pentastar
Green River – "Hangin Tree" from Sub Pop 200
Mudhoney – "Sweet Young Thing Aint Sweet No More" from SINGLE
Nirvana – "Negative Creep" – Live at Rhino Records
Gruntruck – "Tribe" from PUSH
Alice In Chains – "We Die Young" from WE DIE YOUNG
Coffin Break – "American Dream" from CRAWL
S.O.D. – "Territorial Pissing" from Live At Budokan
Machine Head – "Negative Creep" from Take My Scars
Grave – "Them Bones" from As Rapture Comes
Impaled – "Tourettes" from Medical Waste
Thou – "Something in the Way" from The Archer & the Owle
Melvins – "Sweet Young Thing Ain't Sweet No More" from Steel Pole Bathtub Split
Opeth – "Would" from Burden
Bloody Roots is Sound of the Beast author (and Bazillion Points publisher) Ian Christe's heavy metal history show on Sirius XM Liquid Metal channel 40. Since June 2004, each weekly show has examined another subgenre, band, movement, country, or theme in metal, punk, and heavy rock. The show is available on-demand online from SiriusXM.com.