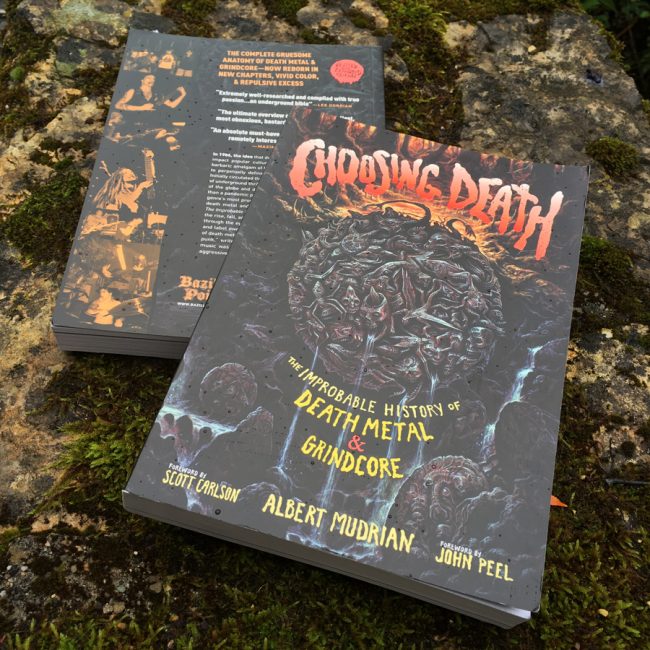 This November 2016, Bazillion Points Books expands its lethal library with a revised and expanded 400-page "death-luxe" edition of Decibel editor Albert Mudrian's morbid modern classic CHOOSING DEATH: The Improbable History of Death Metal & Grindcore. CHOOSING DEATH will join Daniel Ekeroth's SWEDISH DEATH METAL, Tony Rettman's NYHC, and dozens of other essential volumes detailing extreme underground happenings.
Says Publishers Weekly: "Mudrian, editor-in-chief of Decibel magazine, condenses painstaking and lengthy interviews to create this informative history of death metal, covering the genre's origin in small clubs and basements on two continents; its spike in popularity and major-label interest circa 1992; the relative obscurity that followed; and the music's rebirth in recent years."
Preorder the book at this location and receive a color woven patch featuring new cover artwork by celebrated painter Dan Seagrave: PREOORDER HERE
Mudrian's widely praised blow-by-blow history of metal's most relentless strains was first published in 2004, leading to seven further translated editions (plus a limited edition hardcover from Decibel Books in 2015). Picking up the gruesome path over a decade later, Mudrian now leaves no tombstone unturned, delivers three new chapters, and expands every chapter with material from 50 new interviews.
Bazillion Points has completely rebuilt the results in a larger, heavier 130gsm format offering new introductions and afterwords by Mudrian; a foreword from forefather Scott Carlson of Repulsion; new artwork and photographs; and a brutal new 16-page color section featuring raw, bloody early photos of Death, Repulsion, Obituary, Deicide, Morbid Angel, Thanatos, At the Gates, Napalm Death, Carcass, Dismember, Nihilist, and many others.
"The only reason Bazillion Points didn't release the original version of CHOOSING DEATH back in 2004 is because they wouldn't exist for another four years!" says Mudrian. "That minor delay ultimately couldn't prevent this unholy union of print-minded forces. In fact, the extended courtship provided me with an extra dozen years to fashion this ultimate edition of CHOOSING DEATH. Only Bazillion Points' CHOOSING DEATH is real…"
"Extremely well researched and compiled with a true passion, CHOOSING DEATH is the testament of an era—an underground bible."—Lee Dorrian, Napalm Death/Cathedral
Thrust your fingers into the freshly turned soil, and inhale the stench of CHOOSING DEATH!
CHOOSING DEATH: The Improbable History of Death Metal & Grindcore, by Albert Mudrian