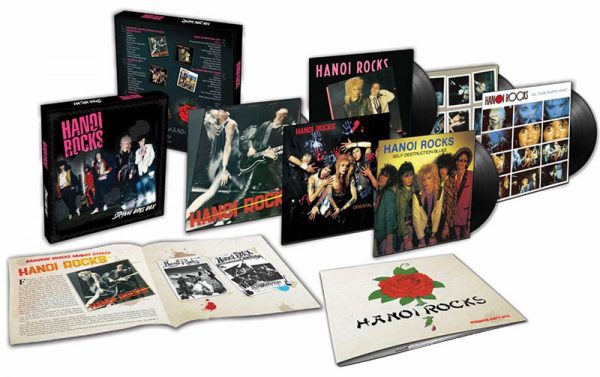 Strange Boys, a remastered collection of the first five albums by Finnish glam-trash punk-metal legends Hanoi Rocks, will strut with style into stores on October 21. Get ready to mess up your hair and wake up somewhere new.
Cleopatra Records has two versions of Strange Boys planned: one features five CDs, the other six vinyl LPs. Each will cover the group's first four studio albums—Bangkok Shocks, Saigon Shakes, Hanoi Rocks (1981), Oriental Beat (1982), Self Destruction Blues (1982), and Back to Mystery City (1983)—as well as the 1984 double-live classic, All Those Wasted Years.
In addition to recreating the original artwork, the box also packs a glossy full-color book of rare photos, including some translated English-language excerpts from Hanoi Rocks: All Those Wasted Years, a Finnish biography of the band.
Read the real story of Finland's most gorgeously ferocious group from louder-than-life guitarist and co-founder Andy McCoy in his own words in Sheriff McCoy: Outlaw Legend of Hanoi Rocks. The slick full-color dust jacket wraps a stamped, simulated leather case featuring a pink placeholder ribbon. Get lost in it!
Hanoi Rocks - All Those Wasted Years (Live At The Marquee)